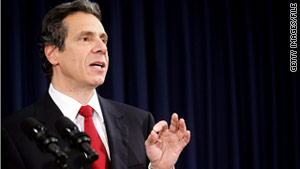 New York Gov. Andrew Cuomo wants to cap superintendents' salaries to help improve the state's finances.
STORY HIGHLIGHTS
Cuomo's bill would cap superintendents' salaries at a maximum of $175,000
About 30% of the state's 700-plus superintendents earn more than that now
A superintendents' advocate says the cap will make it harder to hire good people
Read more about this story from CNN affiliate YNN Albany.
New York (CNN) -- After proposing a $1.5 billion cut in state aid to schools for the upcoming academic year, New York Gov. Andrew Cuomo is targeting the salaries of the state's school superintendents.
Cuomo plans to introduce a bill in the state legislature this week that would cap superintendents' salaries based on student enrollment, the governor's office said in a statement released Monday.
The bill, if approved, would cap the salaries of superintendents of all districts once their current contracts are up.
Superintendents of districts with the smallest enrollment -- up to 250 students -- could earn up to $125,000 a year, while the superintendents of districts with more students -- more than 6,500 -- could earn up to $175,000 year. But for many superintendents, that $175,000 level would be a pay cut.
Data released by the New York State Department of Education shows that for the 2010-2011 school year, about 30% of the more than 700 superintendents in the state are making $175,000 or above.
Cuomo said the bill could save school districts a total of $15 million.
"We must wake up to the new economic reality that government must be more efficient and cut the cost of the bureaucracy," Cuomo said. "We must streamline government because raising taxes is not an option. Reducing back-office overhead, administration, consultants and encouraging consolidations are the best targets to find savings," he said.
Carole G. Hankin, superintendent of Long Island's Syosset School District, is currently the highest paid superintendent in New York State, earning upwards of $380,000 for the 2010-2011 school year for overseeing a school district that has 6,687 students, according to data released by the state Department of Education.
Efforts by CNN to obtain a comment from Hankin Monday night were unsuccessful.
Robert Reidy, executive director of New York State's Council of School Superintendents, released a statement on the council's website Monday, criticizing the impact of the governor's proposed bill.
"Governor Cuomo's proposal to cap superintendent salaries would undermine the capacity of schools to adjust to the new economic realities he says they must face," Reidy said. "As it is now, school districts have found it increasingly difficult to get candidates to take on the job of superintendents. A cap would make it much harder," he said.
Oliver Robinson, superintendent of Shenedehowa School District near Albany, told CNN affiliate YNN Albany Monday at the council's winter conference, "I put 150% of my job, my time, my effort into my job. And I don't apologize for that because I was hired to do that, and I think, quite frankly, I should be appropriately compensated for that." Robinson will make approximately $187,500 for the current school year, according to the state Department of Education data.
Tom Dunn, spokesman for the New York State Department of Education, would not comment on the proposed bill, saying, "we can't comment on a bill that we haven't seen."
FOLLOW THIS TOPIC