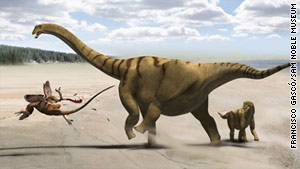 A new dinosaur dubbed "thunder-thighs" has been discovered in Utah, CNN affiliate KWTV reports.
STORY HIGHLIGHTS
Police find nearly 2,000 pounds of pot inside truck that was supposed to be carrying lettuce
In Florida, a box of Thin Mints gets between roommates
Woman wins honor of being the fastest grocery store bagger in the country
New dinosaur 'Thunder Thighs' discovered
(CNN) -- Here is a quick glimpse of some of the quirky stories that happened across the U.S. over the week, courtesy of our CNN affiliates.
Cops: Thief hid chainsaw in shorts
A man in Chickasha, Oklahoma, was arrested for shoplifting after he attempted to conceal a stolen chainsaw by shoving it down his shorts. Police say the suspect pulled an Echo chainsaw from the display and shoved it down the front of his pants. He also allegedly stole a dog collar before leaving the store.
Dolphins save dog in canal
Some persistent dolphins are being credited with saving a dog that had run away on Marco Island, Florida. The dog's owner said he had been missing for 15 hours before the dolphins alerted neighbors.
Cops: Pot disguised as lettuce
Police found a whole lot more than lettuce aboard an 18-wheeler during a routine traffic stop and truck inspection, investigators said. The truck was supposed to be carrying a load of lettuce, but the officers said they found 1,995 pounds of marijuana packed into plastic-wrapped bundles amid the boxes of leafy greens.
Supercomputer Watson to analyze medical records
A supercomputer that defeated two human contestants on a TV game show may soon help make advancements in medical care through tests in Maryland. IBM's "Watson" broke records in winning "Jeopardy!" games against two human contestants. With Watson's speech recognition and answering skills, he stole the show and won more than $77,000 for charity. Now, Watson has the title of "doctor," and he's going to college.
Deputy: Women fight over Thin Mints
A woman was arrested after deputies say she attacked her roommate over a box of Thin Mint Girl Scout cookies. Hersha Howard was charged with aggravated battery with a deadly weapon. Howard's roommate, Jasmin Wanke, told deputies she was asleep when Howard burst into her bedroom and accused her of eating the cookies. Wanke said she gave them to Howard's kids because they were awake and hungry at 1 a.m., according to a sheriff's report. The women began to argue, then Howard reportedly jumped on top of Wanke and struck her in the face.
Man, 84, has been to every Daytona 500
When Jack Hege first started attending the Great American Race, the grandstands were only 15 rows deep. "You could see everything," says the 84-year-old die-hard Daytona fan. Hege made the nine-hour drive from North Carolina some 50 times before finding someone to drive him the last few years. This year however, some medical problems threatened to break his 53-year streak. Hege wasn't going to go, but his doctor gave him the OK and Charlotte-based team owner Richard Childress called to provide him a ride to the race and VIP treatment.
Woman is fastest grocery store bagger in country
She is the fastest groceries bagger in the country, and Monday was her first day back on the job at the Hannaford grocery store in Burlington, Vermont. Last week, Krystal Smith bagged the title at a Las Vegas competition and followed it up with an appearance on the "Late Show with David Letterman." And her first day back was anything but ordinary. "I just had like a bunch of adrenaline pumped into me, and I just bagged," Smith said. I took just 38 seconds for Smith to capture her supermarket sweep.
New dinosaur 'Thunder Thighs' discovered
An international team of scientists, including a University of Oklahoma professor and one of his graduate students, have discovered a previously unknown dinosaur.
"It's always exciting. It's like telling everybody that you have a new baby," said Dr. Richard Cifelli, Curator of Vertebrate Paleontology at the Sam Noble Museum of Natural History.
Cifelli will be the first to admit his new baby isn't the prettiest thing and it's actually two dinosaurs, a juvenile and an adult. Their resting place was discovered by amateurs and looted before the museum was called in to save what it could. Even then, it took years to realize what they had.
Teen assigned NBA star's old phone number
An Oklahoma teen says she's being bombarded with calls on her new cell phone. But the people calling aren't looking for her; they're trying to get in touch with a celebrity.
School fights pesky poop problem with cardboard coyotes
Schools in Raytown, Missouri, for more than a decade have been dealing with a problem they wish would just fly away. They think they now have a solution to keep geese from pooping all over the school playgrounds and ballparks.