Top Marine official cleared of misconduct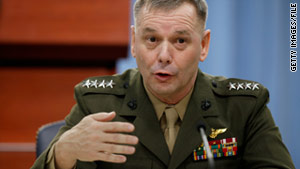 Marine Corps Gen. James Cartwright was cleared of wrongdoing by the Pentagon inspector general.
STORY HIGHLIGHTS
Vice chairman of Joint Chiefs was accused of sexual relationship with staff member
Report says he did foster overly familiar connection
Washington (CNN) -- Marine Corps Gen. James Cartwright, the vice chairman of the Joint Chiefs of Staff, has been cleared of any wrongdoing after an investigation by the Pentagon inspector general in connection with an incident involving a female officer on his staff.
The investigation focused on an incident in March 2009 and was completed nearly a year ago, but documents connected to this investigation were released Wednesday.
The inspector general report, which began with an anonymous call to a Pentagon hotline, cleared Cartwright of accusations that he had a sexual relationship or any improper liaison with the woman, according to Maj. Cliff W. Gilmore, Cartwright's spokesperson. But the report did recommend administrative actions for two less serious matters, failure to discipline the woman and fostering an unduly familiar relationship.
The incident occurred during a trip to Tblisi, Georgia, shortly after Russian troops entered part of that country. Because of the security situation in Georgia, Cartwright and his off-duty staff remained in the hotel, which served as their base of operations, before preparing to fly back to Washington, D.C.
According to the report, at some point late that night a woman on his staff came to his room to talk about a personal family issue. She had been drinking in the hotel bar with some other off-duty staffers. Cartwright was up and working at his desk. Either because of alcohol, fatigue, stress related to her family problem or a combination of those factors, the officer fell asleep on a bench on the end of his bed, the report said.
During the time, both of them were fully dressed and several people came in and out of his hotel room, which also served as his office on the trip.
Cartwright decided not to wake the woman and send her by herself to her room because he was concerned that something could happen to her in the hotel. If she were to get out of the hotel, she would be in serious danger, he believed.
He did not ask the next senior military person to move her, because he was a man and he'd been drinking. So he decided to let her sleep while he worked.
She woke about 45 minutes later, was escorted back to her room and the entire group flew home to Washington a short time later.
Navy Secretary Ray Mabus reviewed the report and decided that the evidence did not warrant action for any of the alleged offenses.
Cartwright, who continued his duties as the second-highest uniformed officer in the military during the investigation, is now considered by some to be a front-runner to replace Adm. Michael Mullen when he retires later this year.
The woman, who was not named in the report, is still serving in the military.
Gilmore released a statement about the investigation that reads in part; "Gen. Cartwright believes it's important to have a system that allows anonymous complaints to be heard and appropriate for leaders, especially at his level, to be open to this degree of scrutiny."