Transplant that got sisters freed from jail postponed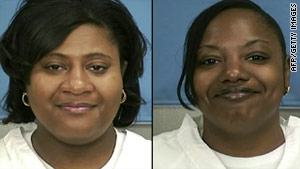 Jamie and Gladys Scott were released from prison in January while serving time for armed robbery.
STORY HIGHLIGHTS
It's still unknown if sister's kidney is compatible for the other
Doctors say woman must lose weight before testing can be done
Mississippi governor released both from life sentence for donation
(CNN) -- A proposed kidney transplant that got two sisters released from jail has been put on hold.
Mississippi Governor Haley Barbour suspended Gladys and Jamie Scott's prison sentences last year, but on one condition: One sister must donate a kidney to the other.
Jamie Scott, who suffers from severe kidney failure, said doctors have told her she needs to lose 110 pounds before any steps toward a transplant can be made. It's still unknown if Gladys' kidney is a compatible match for her, she said.
"We haven't done the testing, and the doctors said they're not going to do that until I get down to a certain size," she said.
The Scott sisters were convicted of armed robbery for their role in a 1993 ambush. Authorities accused the sisters of leading two men to a group of three teenagers, who hit them with a shotgun and took their wallets. The robbers reportedly got away with between $11 and $200. Both sisters have maintained their innocence.
The sisters both served 16 years of their life imprisonment sentence before being released in early January due to Jamie Scott's severe kidney failure. Barbour, upon suspending the sentences, had said the transplant surgery "should be scheduled with urgency."
Jamie said doctors are considering weight-loss treatment options like the LAP-BAND, a stomach-restricting device -- but they must first consider how it would interact with her dialysis.
In the meantime, she's begun an exercise regimen. "Gladys and I are going to a pro bono aerobics trainer," Jamie said.
Evelyn Rasco, the pair's mother, said Gladys needed to lose about 30 to 40 pounds, and that she's anxious for the compatibility assessment to take place.
"They won't even do the testing till the weight is off. They have to get Jamie in shape first before they even think about, get ready for the surgery first," she said.
Barbour's office did not respond to the question of whether the sisters will be sent back to prison should they be unable to complete the kidney transplant.