Organized labor stages rally outside DC office of Wisconsin governor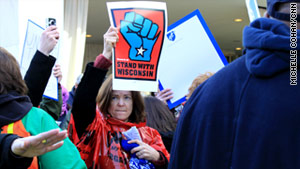 Union activists take their protest to the Washington office of Wisconsin Gov. Scott Walker.
STORY HIGHLIGHTS
Union leaders fear Wisconsin's move to disband labor accords may spread
The rally closes the street at Wisconsin governor's office near U.S. Capitol
Demonstrators ranged from educators to prison guards
Washington (CNN) -- Hundreds of union activists demonstrated in front of the Washington offices of Wisconsin Gov. Scott Walker on Wednesday, in solidarity with workers in Walker's state who may lose their collective bargaining rights as part of his budget-cutting strategy.
"We're all here to learn a real lesson from Wisconsin that is happening all over the country," said Isaiah Toney, a University of Wisconsin graduate who led the protesters in chants and a march around the office building near the U.S. Capitol.
Noting efforts to disband agreements with organized labor, he said, "In Indiana they are introducing it as well, but we are not going to take it there, we're not going to take it in Wisconsin and we are not going to take it anywhere in the United States of America."
Police closed off busy North Capitol street in front of the office building when rally participants spilled past a plaza and over the curb. The complex is home to the Capitol Hill bureaus of a number of media outlets that include C-SPAN, Fox News and NBC.
The rally was organized by the Service Employees International Union, but other labor groups participating included the American Federation of State, County, and Municipal Employees, the Newspaper Guild, and others representing teachers, hospital workers, prison guards and shipyard engineers.
"No union busting," said Jerome Brocks, a retired schoolteacher from the District of Columbia, who said the city's education leaders have unfairly tried to break labor accords to fire certain educators.
"We are united for workers across this country," said Rep. Donna Edwards, D-Maryland, who was among those who used bullhorns to address the crowd.
FOLLOW THIS TOPIC