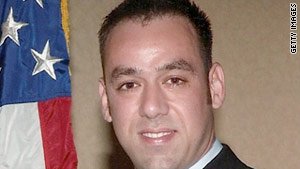 Special Agent Jamie Zapata was shot and killed February 22 while traveling between Mexico City and Monterrey.
STORY HIGHLIGHTS
Jaime Zapata was gunned down in Mexico last week
The immigration agent was the first U.S. law enforcement officer killed there in 25 years
No life lost in service is ever in vain, bishop says
(CNN) -- Mourners came to pay their last respects Tuesday at a funeral for slain U.S. immigration agent Jaime Zapata.
Attendees overflowed the Brownsville Events Center in Texas, where Bishop Daniel Flores said during the funeral Mass that no life lost in service is ever in vain.
Zapata, 32, was gunned down on a Mexican highway last week in an ambush believed to have been orchestrated by the Zetas drug cartel. A second Immigration and Customs Enforcement agent, Victor Avila, was wounded in the incident.
The killing marked the first time in 25 years that a U.S. law enforcement agent was killed in Mexico.
The young man's flag-draped coffin was placed in front of the altar.
"Words are not capable of expressing at moments like this the depth of loss," Flores said.
Zapata was always smiling or laughing in pictures, the bishop said.
"He translated this joy for life to the commitment he made to serve for us," Flores said, calling him "un muchacho muy noble"-- a very noble man.
But the translation to English doesn't fully express the meaning of the term, Flores said, which means goodness, justice and compassion in Spanish.
Homeland Security Secretary Janet Napolitano lauded Zapata's work.
"He embodied the devotion and integrity of all those who carry the ICE badge in service of their country," she said during the Mass.
She vowed to capture those responsible for Zapata's killing, which she said "occurred without provocation or warning."
The United States will continue to support Mexico in its fight against the drug cartels, Napolitano said.
Attorney General Eric Holder also spoke, and echoed Napolitano's vow for justice.
"We will win this struggle. This is our pledge to you," he said.
Some of the strongest words at the funeral came from John Morton, director of ICE.
"The men who shot into his car are empty and without souls. They could live a thousand years but would still amount to nothing, nothing compared to Jaime," he said.
"We will prevail in this dark moment," Morton said. "No one -- not gunmen in Mexico, not criminals here -- will keep us from doing our job."
Video footage from the funeral showed people lining up along the road that would carry Zapata's casket from the events center to the cemetery.
FOLLOW THIS TOPIC