Smoking banned in New York City parks and on beaches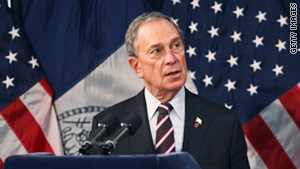 New York Mayor Michael Bloomberg signed the bill banning smoking in many public places on Tuesday.
STORY HIGHLIGHTS
The law will go into effect in 90 days
Violators can face a $50 fine
New York (CNN) -- Life just became more of a drag for New York City smokers after Mayor Michael Bloomberg signed a bill Tuesday banning smoking in many public places.
The new law will make smoking illegal in New York City's 1,700 parks and on the city's 14 miles of public beaches. Smokers will also be prohibited from lighting up in pedestrian plazas such as Times Square.
The ban, which the city council overwhelmingly approved earlier this month, is designed to cut down on second-hand smoke as well as reduce litter.
"Smoking in parks and beaches not only harms people trying to enjoy these recreational facilities, it also causes a litter problem that harms the beauty of our parks," Bloomberg said before he signed the bill.
But Council Member Robert Jackson, who opposed the bill, said the ban is "going against our liberty of the people of New York City. As someone who wants to breathe clean air, I think we are going too far and being intrusive."
New York City passed its first Smoke Free Air Act in 1988, when smoking was banned in public restrooms and taxicabs. Since then, the law has been amended three times, most notably in 2002, when smoking in indoor areas -- including restaurants and bars -- was banned.
"Because of our combined efforts over the last nine years, there are 350,000 fewer people who smoke and New Yorkers are living 19 months longer than they did in 2002," Bloomberg said.
The ban, which will go into effect in 90 days, will be enforced by the city's parks department, and violators will face a $50 fine.
New York now joins Los Angeles, Chicago, San Francisco and Salt Lake City, Utah, which already have laws banning smoking in city parks.
FOLLOW THIS TOPIC