Blind Army officer offers 'Hope Unseen' to others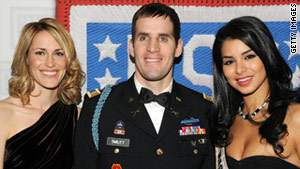 Van Cleave Award recipient Captain Scott Smiley attends the 49th USO Armed Forces Gala & Gold Medal Dinner.
STORY HIGHLIGHTS
Capt. Scott Smiley is the Army's first blind active-duty officer
Smiley lost his sight in an April 2005 attack against his platoon in Iraq
Decorated Ranger tells about his experience in the book "Hope Unseen"
(CNN) -- The last thing Army Capt. Scotty Smiley remembers seeing is a man behind the wheel of a truck raising his hands as if to surrender.
An instant later, the truck disintegrated, killing the man and whipping bits of shrapnel into both of Smiley's eyes.
The April 2005 attack on Smiley's platoon in Mosul, Iraq, cost Smiley his sight. For most U.S. military officers, it would have cost them their careers as well. Nearly six years later, however, Smiley has become the Army's first blind active-duty officer.
Smiley, a decorated Ranger and West Point graduate, has also been sky diving, climbed Mount Ranier and earned a MBA, among other things.
"I like to keep things moving," he said in an interview Monday. "My wife (Tiffany) is always keeping me on my toes."
With Doug Crandall, Smiley has penned a book about his experience, "Hope Unseen" (Howard Books), that he hopes will inspire others.
"Waking up in Walter Reed Army Medical Center (after the attack and) not able to see, my life totally changed. ... I hated life," Smiley said. "I hated God. I hated everything. It took a real recognizing on my part to forgive and really understand (my purpose). Until I did that, it was a dark and dreary time."
Smiley eventually learned to walk with a cane and how to read and write Braille with the help of a program run by the Department of Veterans Affairs.
He told CNN it wasn't easy convincing the Army to allow him to remain on active duty. He said It often remains a challenge not to be treated differently by colleagues.
Smiley's a company commander and helps oversee the medical recovery and rehabilitation process for roughly 200 service members.
While it's hard not to be able to see his wife and children, Smiley said he has no regrets about his career choices. "We all go through trials and tribulations," he said. "We all have tough times. It's about understanding them and moving forward."