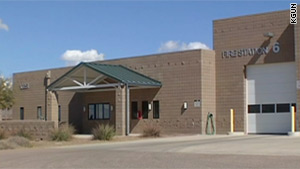 The Tucson Fire Department strongly denied a newspaper report that a veteran firefighter "refused to help" after the January 8 shootings.
STORY HIGHLIGHTS
NEW: A Tucson fire chief says Mark Ekstrum is "remorseful" after "unacceptable" decision
The Arizona firefighter refused to go to shooting scene involving U.S. Rep. Gabrielle Giffords
A supervisor writes that Ekstrum cited "political bantering," didn't go "for the good of the crew"
Ekstrum, a Giffords supporter who later retired, said he was distracted and "distraught"
(CNN) -- A Tucson firefighter refused to go with his colleagues to the scene of the mass shooting involving U.S. Rep. Gabrielle Giffords, saying he went home instead because he was "distraught over the magnitude of how this would affect the country."
Teams of emergency personnel responded January 8 to a supermarket parking lot, where a gunman killed six and wounded 13 during a "Congress on Your Corner" meet-and-greet event.
Mark Ekstrum, a 28-year veteran of the southern Arizona city's fire department, was not among them.
According to a memorandum, dated January 9, from Capt. Ben Williams of the Tucson Fire Department, Ekstrum came into a room of firefighters preparing to deliver and set up nonemergency items at the Safeway and told them that, "for the good of the crew," he wanted to call in sick. Williams wrote that Ekstrum said he did not want to be part of the "political bantering."
The captain, according to the memo, emphatically told Ekstrum that the firefighter's help was needed and that he couldn't leave -- an assertion backed up by other colleagues at the station.
"The captain was flabbergasted," Assistant Fire Chief Joe Gulotta told CNN's Brooke Baldwin on Friday. "He said you've got to go, you can't refuse."
The memo stated that shortly thereafter, Ekstrum told Williams he had different political views from his fellow firefighters. At the end of the conversation, Ekstrum said, "I'm leaving, I'm going home sick." A fire engine then stopped to pick up two other firefighters, in part to take Ekstrum's place, according to Williams.
Gulotta said Ekstrum had watched two hours of television coverage of the shooting before the call and "was not communicating well with his captain that afternoon."
In a statement, dated February 15, Ekstrum wrote that he was a supporter of Giffords, having found her responsive and smart during a previous meeting and voting for her in the previous fall's election. The congresswoman, who was shot first and at close range through her brain, is recovering at a Houston rehabilitation center.
The firefighter described himself as "very passionate about our country and distraught over the magnitude" of the shooting targeting the congresswoman.
"Countless thoughts were streaming through my brain," Ekstrum wrote. "I became distracted to the point of not being able to perform my routine station duties to such an extent that I seriously doubted my ability to focus on an emergency call."
The firefighter wrote that he decided, "for the best interest of my crew, and more importantly the citizens, to go home on sick leave."
Ekstrum acknowledged, in his statement, that he "failed" to effectively express his sentiment to Williams and others. The next day, he said he felt he had "crossed a line" and "should have been there, regardless of how responsible I was attempting to be from the standpoint of distraction."
Calling the refusal to respond to the call "unacceptable," Gulotta said the fire department was considering disciplinary action. Williams had recommended a 20-day suspension for what would have been Ekstrum's first offense.
But before they could even talk to him, Ekstrum began the process of retiring two days after the shooting -- a move that the firefighter said he initiated himself, not at the prompting of his supervisors.
"He knew he wasn't going to regain the confidence of the captain ... and the community," Gulotta said.
This week, the Arizona Daily Star published an article about the incident. The Tucson Fire Department, in a statement issued Thursday, called out the report's claim that Ekstrum "refused to help" as "simply not true."
"He had an inability to remain at work due to emotional stress related to events he had been watching on television and was (in) no way political," the fire department's statement said.
The fire department said that had he gone, Ekstrum would have joined his crew nearly two hours after the shooting to deliver and set up tents. They didn't treat any victims, who were by then all at hospitals. And Gulotta said Friday that even after picking up two firefighters, in part because of Ekstrum's absence, "there was no delay in their response."
The assistant fire chief said firefighters and other first responders can become emotional after responding to an emergency. In the case of Ekstrum, he became emotional before leaving the station and felt incapacitated because of it.
"It was completely the other way around -- he supported her and was really distraught (before leaving)," said Gulotta, who has talked with Ekstrum. "He's really remorseful, he's apologetic to the community."