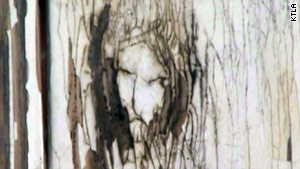 A couple in Orange County found this image on a chair in their backyard.
STORY HIGHLIGHTS
Group raises cash to erect RoboCop statue in Detroit
Internet sellers earning cash with Harry Baals merchandise
New Jersey governor wants to evict 'Jersey Shore' pair
(CNN) -- Here's glimpse of some of the quirky stories that happened across the United States this week, courtesy of our CNN affiliates.
Couple finds image of Jesus in wooden chair
An Orange County, Califoronia, couple says they have found the image of Jesus in a wooden rocking chair that has been sitting in their backyard for years. After throwing out some old cushions, they discovered the image. Lynn Balducci says she believes the image is a blessing from God and hopes it is a sign of better things to come.
From affiliate KTLA
$50K raised to erect RoboCop statue in Detroit
Six days after an online fundraising campaign began, a loosely organized group of Detroiters has raised more than $50,000 to build a statue to pay homage to the 1987 film. The group met its goal after a $25,000 matching gift Tuesday evening from a company called Omni Consumer Products.
From affiliate WDIV
Pair cashes in on former Mayor Harry Baals' name
Don't expect to see the name "Harry Baals" plastered on a building in downtown Fort Wayne, Indiana, anytime soon. But don't be surprised either if you see it on a T-shirt, mug or even your significant other's underpants. Since the former Fort Wayne mayor's name became a viral sensation, people have turned to the internet to cash in on the Harry hoopla. "I don't know if we thought it was going to be as big of a deal as it has been so far," said Aaron Steele, one of the creators of gotbaals.com. Steele is a graphic designer and his business partner, Eric Rupp, is in the internet security business. The two decided to sell Baals-related merchandise late last week. Within five hours, they doodled designs, set up a website and put the merchandise up for sale. The site gets 500 hits a day and dozens of sales.
From affiliate WANE
iPhone App helps New Yorkers find free condoms
The New York City Health Department launched the NYC Condom Finder, a free smartphone application designed to locate the five nearest New York City venues that distribute free NYC Condoms. The app allows users to determine their location through either global positioning system technology on their smartphone or by manually entering an address. The application also provides specific directions to each venue (the user can choose from walking, driving or public transportation directions), the hours of operation for each location, the types of safer sex products available and helpful tips on condom usage.
From affiliate WABC
Flavor Flav wants high school diploma and reality show
In Clinton, Maryland, a battle is brewing between the Clinton School District and reality star Flavor Flav. The 51-year-old rapper is pitching a reality show depicting his trials and tribulations while earning a high school diploma. School officials are worried about the distraction, though. "A whole bunch of students have been talking about it, just a big thing going around," said Clinton high school junior Elaina Garrison. "Such a tiny town. We don't even like it here, so why would he come, you know?" questioned junior Sarah Bark. The rapper-turned-restaurateur is aiming for his high school diploma after dropping out of school in the 10th grade. "I want this show to be able to influence people my age, that if you dropped out of high school when you were young it's never too late to go back to get your diploma," said Flav.
From affiliate WQAD
Llama breaks out of pen and attacks deputy
The West Coast has high-speed chases down freeways, but in western North Carolina, llamas are the chase du jour. A llama named Henry broke out of its pen and threatened two people, including a sheriff's detective, before the wayward animal was trapped inside a pasture in Cleveland County on Wednesday morning.
From affiliate WBTV
New Jersey governor wants to evict 'Jersey Shore' pair
Gov. Chris Christie is on a mission to rid New Jersey of two of its most famous seasonal houseguests -- Snooki and The Situation. Christie, who has never shied away from voicing his distaste for the hit MTV show "Jersey Shore," has said in the past that the reality show and its cast give a bad and inaccurate impression of the state. At a town hall meeting in Morris County on Tuesday, Christie promised supporters that he has plans to tell his "good friend" New York Gov. Andrew Cuomo to take back the native New York cast members who are "out of control" in the Garden State.
From affiliate WPIX
Portland leaders approve anti-scent policy
Portland, Oregon, leaders unanimously agreed to pass a new policy discouraging personal scented products in the workplace, saying such products can irritate some people's allergies or asthma. On Wednesday, commissioners said they would adopt the policy that discourages perfume, aftershave, cologne and the use of strongly scented powder, deodorant and other personal hygiene products.
From affiliate KGW