STORY HIGHLIGHTS
NEW: 3 to 6 inches of snow could fall in Deep South states of Mississippi and Alabama
NEW: Temperatures below freezing, dangerous roads expected most Mid-South states
NEW: Snowfall snarls travel in Oklahoma, Missouri, Arkansas and Texas
Check out CNN affiliates KTVT, WFAA and KFDA in Texas; KJRH and KOTV in Oklahoma; and KARK, KLRT and KFSM in Arkansas for the latest on the storm. For up-to-the-moment travel delays, follow @CNNTravel
(CNN) -- A winter storm is closing in on the U.S. Southeast, barely a week after another record-setting weather system pummeled the Plains and Midwest.
A winter storm warning is in effect for the most southern of Deep South states, Mississippi and Alabama, and for parts of Louisiana, Arkansas and Tennessee, according to the National Weather Service. Significant snowfall is expected in the warning area, between 3 and 6 inches. The agency also warned that snow accumulation combined with freezing temperatures could lead to hazardous driving conditions.
A separate winter weather advisory stretches across states not under the winter storm warning, from Texas across to Virginia, reaching north to incorporate Kentucky and even brushing the southern tips of Illinois and Indiana. Temperatures will fall below freezing and rain will change to snow and accumulate on roads and interstates. One to 2 inches of snow could fall, with more in isolated areas. Travel difficulties can be expected because roads will be covered with an icy slush.
Snow and sleet are predicted as far south as central Texas, with 1 to 3 inches expected in the Dallas-Fort Worth area, the National Weather Service said. A hard freeze warning extends to the U.S. border with Mexico.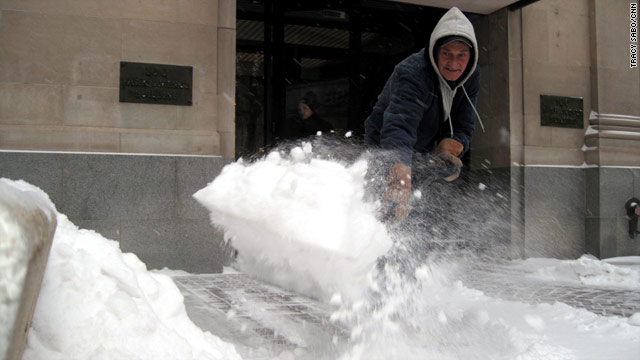 Gallery: Winter weather hits again

Oklahoma facing up to 12 inches of snow

Texas socked by snow

Arkansas in snow bull's-eye
Bitterly cold temperatures will lock the center of the country in the deep freeze as the system moves east.
"Behind the system, cold high pressure will bring temperatures 30-40 degrees below average to parts of the central U.S. by midweek," according to the National Weather Service.
The weather system has already dumped significant levels of snow and ice on Missouri and Oklahoma, along with parts of Kentucky, Arkansas and the panhandle of Texas.
In Arkansas, youngsters got a chance to work on their sledding skills, because schools were closed in advance of the approaching system. The snow began falling in Hot Springs around 5 a.m. and didn't let up for nine hours, according to CNN-affiliate KATV.
In parts of Kansas and Kentucky, road crews hustled to clear snow from interstates and highways. Snow fell furiously; wind pushed it sideways and at times the sky took on the look of a white-out. This forced travelers to slow their pace to a crawl. Dangerous conditions near Newton, Kentucky, prevented vehicles from getting traction on hills and sent some sliding off roads and into gullies and ravines.
Snow closed schools in parts of Missouri as well. About 2 inches of snow fell in Kansas City, Missouri, but it was enough to cause several accidents and cover roads in the southeast part of the state.
Parts of Oklahoma received up to 12 inches of snow, according to the state Department of Emergency Management. Wind chills were 10 to 30 degrees below zero in some areas, and authorities urged people to stay off the roads. Only so many travelers were able to heed that warning, and traffic inched slowly along icy interstates The Oklahoma Highway Patrol worked in conjunction with the National Guard to rescue stranded motorists using heavy Humvees, according to CNN-affiliate KOCO.
At least two people were killed near Miami, Oklahoma, which is close to Oklahoma City. A truck plunged 80 feet off a bridge along Interstate 44. Police told KOCO that the driver lost control on an icy bridge, flipped over the railing and landed upright on the riverbed below. At least five survivors were able to climb out of the sun roof and wait for rescue on top of the vehicle.
Earlier, the Oklahoma State Department of Health said 80 people in Oklahoma had been injured as a result of the storm. That total included 63 falls, one carbon monoxide poisoning, 14 injuries in traffic accidents and two "cut/pierce injuries."
Twenty-seven Greyhound bus passengers stayed at a shelter overnight Tuesday in a Tulsa church, the state Department of Emergency Management said. Six warming stations were opened "for any stranded motorists and others displaced by the storm." State offices in seven counties were closed, along with numerous schools and businesses.
Oklahoma City's Will Rogers International Airport reopened one runway and began limited flights after the aiport had closed earlier Wednesday morning due to the weather.
In Amarillo, Texas. snow began closing roads early Wednesday morning, according to CNN-affiliate KDFA. There were wrecks and rollovers, and at least one person was taken to the hospital with signs of severe hypothermia, KDFA said. A portion of Interstate 40 in the Texas Panhandle was closed until further notice, according to the state Department of Transportation.
Weather crews at Dallas' Love Field airport worked throughout Tuesday night and into Wednesday morning in an effort to keep runways clear, officials said.
At Dallas-Fort Worth International Aiport, crews did the same, according to airport spokesman David Magana. Some flights were canceled at both airports because of the weather.
Dallas-area volunteers for Meals on Wheels, an aid organization that delivers prepared food to housebound people, worked nonstop to get extra meals ready before snow and icy conditions closed roads, according to CNN-affiliate KTVK. The weather system that closed Dallas last week left the group unable to reach its customers for four days. Tom Hauser, with the Collin County Committee on Aging, which runs the Meals on Wheels program, told KTVK. "We've already delivered over 2,500 meals in the last two days that are nutritious meals."
The historic storm last week left its mark on at least 30 states, dumping about 2 feet of snow on the Chicago area and prompting Oklahoma's governor to declare a state of emergency.
Another winter system at the end of the week left central and southern Texas a mess. Hundreds of flights were canceled as the winter weather threatened the plans of Super Bowl enthusiasts headed for the game last Sunday in Arlington, Texas, a suburb of Dallas.
An unrelated storm system put portions of the North Carolina coast including the Outer Banks under a winter storm warning Wednesday. The weather service said 2 to 4 inches of snow could fall in inland areas, with 1 to 3 inches expected on the coast.
FOLLOW THIS TOPIC