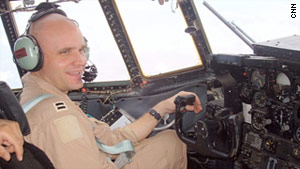 Criminal charges against Chad Bushman were dismissed after his wife learned of his PTSD prognosis.
STORY HIGHLIGHTS
Board of Inquiry recommends honorable discharge for Maj. Chad Bushman
Bushman was accused of abusing his wife after deployments in Iraq, Afghanistan
His lawyer says Air Force failed to promptly diagnose his PTSD
Montgomery, Alabama (CNN) -- A three-member Board of Inquiry is recommending that a veteran Air Force pilot who has post-traumatic stress disorder be discharged under honorable conditions, according to the pilot's attorney.
Maj. Chad Bushman's 17-year flying career unraveled in November 2008 after he was arrested by military police and accused of abusing his wife in the four years after he returned home from war deployments into Iraq and Afghanistan.
Shortly after the board issued its recommendation Wednesday afternoon, Bushman said that, despite the discharge ruling, he was still hopeful that he could stay in the military. The board could have recommended a harsher ruling of a dishonorable discharge.
"I get to be back with my family. I'm blessed," Bushman said. "The family is the most important part. I'm accepting this is what's going to happen."
Bushman's attorney said the decorated pilot should be allowed to remain in the Air Force because the abuse would not have occurred had the Air Force properly diagnosed his PTSD after returning from war in 2004.
Stephen Karns, Bushman's attorney, argued before the review board that warning signs of the pilot's mental state were missed because the pilot was not given a psychological exam until four years after returning from the battlefield.
It is customary that soldiers returning from battle fill out a Post-Deployment Health Reassessment survey. The form can help military psychologists find symptoms of PTSD.
"Simply said, the board decided it (PTSD) didn't excuse him from the misconduct he engaged in," Karns said.
In the years after his deployments, Bushman said, he lost control of his temper and his relationship with his wife deteriorated.
In a five-page sworn statement that led to his arrest, Bushman's wife, Tori Bushman, said her husband choked her and threatened to kill her.
Criminal charges against Bushman were dismissed because his wife refused to cooperate with prosecutors after she learned a military psychologist diagnosed Bushman with PTSD.
Tori Bushman said she fully supports her husband and vows to save her marriage, but she said the Air Force is "giving up" on her husband.
"They just see him as a bad man, and they just want to get rid of him," Tori Bushman said. "They're not taking into account the situation or what he's done for our country or what we've suffered as a family."
Air Force attorneys cast doubt on the severity of Bushman's PTSD.
Col. Del Grissom, the staff judge advocate for Air University at Maxwell Air Force Base in Montgomery, Alabama, said Bushman never asked for help and performed his job well in the years after war duty.
The Board of Inquiry's recommendation does not immediately end Bushman's military career. The recommendation will be reviewed and ultimately go before the Secretary of the Air Force.
The secretary can follow the review board's recommendation or choose to allow Bushman to keep flying for the Air Force.
If Bushman is discharged under honorable conditions -- one classification below an honorable discharge, he will still lose all retirement pay, according to his attorney.
Tori Bushman said her family is prepared for life after the military, if that is the final ruling.
"We'll pick up the pieces and we're still going to be together," she said. "We're going to be a family and that's what's most important."