Army undersecretary backs off comments about Mexico 'insurgency'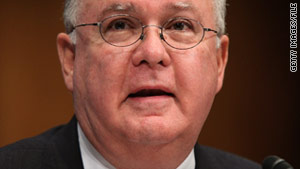 Joseph Westphal told an audience at the University of Utah on Monday that the narcotics cartels had become "a form of insurgency" in Mexico.
STORY HIGHLIGHTS
Joseph Westphal warned drug gangs could take over Mexico
He warned that the cartels could become an "insurgency"
Westphal says Tuesday he regrets his "inaccurate statements"
(CNN) -- The undersecretary of the U.S. Army is backing away from comments he made suggesting American troops might have to fight drug gangs in Mexico, offering his regrets Tuesday for his "inaccurate statements."
Joseph Westphal, the Army's No. 2 civilian leader, told an audience at the University of Utah on Monday that the narcotics cartels had become "a form of insurgency" that could imperil the Mexican government. Westphal said he doesn't want to find American troops "fighting an insurgency on our border in violation of our Constitution, or having to send them across the border."
"Maybe this is more of a personal opinion, but I've certainly shared with people at the White House -- this isn't just about drugs and about illegal immigrants," Westphal said. "This is about potentially the takeover of a government by individuals who are corrupt and have a different agenda, and that would be again right on our border."
Westphal is a former University of Maine chancellor who also served in the Army's civilian leadership during the Clinton administration. In a statement issued Tuesday, Westphal said he had wrongly characterized Latin America as a "strategic blind spot" for Washington.
"My statement also mistakenly characterized the challenge posed by drug cartels to Mexico as 'a form of insurgency.' My comments were not and have never been the policy of the Department of Defense or the U.S. Government toward Latin America," he said.
"I did not speak on behalf of the president, national security adviser, secretary of Defense or any other officials charged with establishing and articulating U.S. policy," he added. "I regret that my inaccurate statements may have caused concerns for our partners and friends in the region, especially Mexico."
There was no immediate response to Westphal's comments from Mexico's government, which launched a crackdown on drug traffickers in 2006. The struggle to wrest control from the cartels has left more than 34,000 dead.
U.S. military intervention is a sore historical subject in Mexico. Most of what is now the southwestern United States was seized from Mexico during an 1846-48 war, and Washington dispatched troops to Mexico twice during the country's revolution in the 1910s.
CNN Pentagon Correspondent Chris Lawrence contributed to this report.
FOLLOW THIS TOPIC