New Jersey senators announce Amtrak support for new tunnel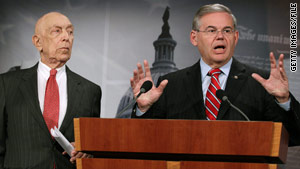 Sens. Frank Lautenberg, left, and Robert Menendez say Amtrak will help fund some of the Gateway Tunnel project.
STORY HIGHLIGHTS
Senators say Amtrak would spend $50 million for $13.5 billion tunnel project
Sen. Frank R. Lautenberg: "New Jersey is facing a transportation crisis"
New Jersey governor rejected a similar project in October, citing budget concerns
New Jersey is facing a projected $10.5 billion deficit
(CNN) -- In an effort to galvanize support for a new pair of rail tunnels connecting New York and New Jersey, two U.S. senators from the Garden State announced Monday that Amtrak would bear some of the costs.
The $13.5 billion Gateway Tunnel project would add high-speed and commuter rail service between the two states by 2020, replacing an earlier project that New Jersey Gov. Chris Christie, a Republican, rejected after citing budget concerns.
"New Jersey is facing a transportation crisis," Sen. Frank R. Lautenberg said Monday. He said residents were "fed up" with train delays and "endless traffic" on New Jersey highways.
Lautenberg joined fellow Democratic Sen. Robert Menendez and Amtrak President Joseph Boardman at the Pennsylvania Rail Station in Newark, New Jersey, saying the government-owned rail corporation would spend $50 million to begin preliminary engineering and design, according to a press release from Lautenberg's office.
"It is a critical first step that we can take now to bring 220 mph Amtrak high-speed service to the Northeast Corridor," said Boardman, according to the release.
Amtrak was not immediately available to verify the proposed spending plan.
Christie rejected a similar project in October after "no agreement was reached on terms that would assure New Jersey's taxpayers would not pay more than $2.7 billion for a completed Trans Hudson Express ARC project."
"The question is who's going to pay for it," said New York Mayor Michael Bloomberg. "Gov. Christie said that there was obligations potentially for the taxpayers of New Jersey that he didn't feel they should shoulder."
"That's his decision to make," Bloomberg added.
The Access to the Region's Core project, also known as the Trans Hudson Express ARC project, would have created 6,000 jobs, with federal cost estimates ranging between $9.8 billion and $12.7 billion.
Lautenberg was among its proponents and led public criticism against the governor's decision to put the project on hold and ultimately cancel it.
"The critical difference to ARC is that Gateway will add far less capacity for New Jersey Transit, though still a considerable amount," said Martin Robins, a former director of New Jersey Transit's Waterfront Transportation office. "The operators would be a lot happier having ARC-lite than nothing."
But the state also is facing a projected budget gap of $10.5 billion for the next fiscal year.
The New Jersey governor has made deficit reduction a cornerstone of his administration, pushing cuts to education, local governments and mass transit and tackling state pension plans and benefits packages for public-sector workers.
Christie is expected to deliver his annual budget presentation February 22.
CNN's Raelyn Johnson contributed to this report.
FOLLOW THIS TOPIC