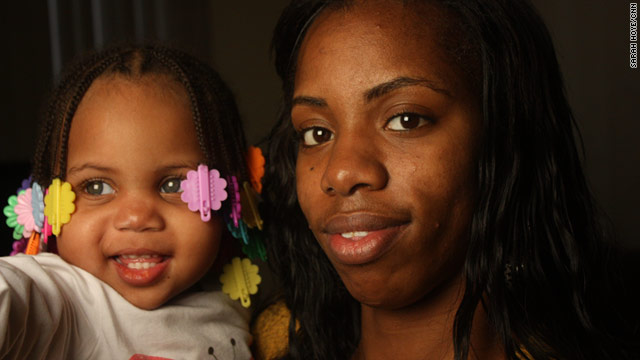 STORY HIGHLIGHTS
Already a teenage mother, LaToya Ransome had an abortion in 2007
She says she was a patient of Dr. Kermit Gosnell, who is accused of killing babies who were born alive
Ransome believes unsanitary equipment at the clinic led to an infection
There has been no definitive link between her health problems and Gosnell
Philadelphia (CNN) -- On a recent Sunday, LaToya Ransome sits near a space heater in her grandmother's living room in north Philadelphia.
"I still deal with it all the time," she says, glancing at the TV and grazing two fingers over a raised scar over her heart. "I'm gonna deal with it until the day that I die because if I wouldn't have gotten the procedure done, none of that would have never happened."
Ransome says she was a patient of Dr. Kermit Gosnell, a Philadelphia physician who is accused of killing babies that were born alive.
Prosecutors say Gosnell carried out those killings in a particularly brutal manner: using surgical scissors to cut their spinal cords.
Gosnell has also been charged in the death of a woman during an abortion procedure.
Philadelphia doctor accused of murdering patient, newborns
Ransome says she's been reliving her brush with death since hearing the news of his January arrest.

Family of abortion doc victim speaks

Woman says abortion doctor hurt her

Doctor accused of murdering newborns
In 2007, Ransome was 19 and about 18 weeks pregnant when she went to the Women's Medical Society in West Philadelphia.
She wanted an abortion. He performed one.
It is illegal to perform an abortion after 24 weeks in the state of Pennsylvania. Generally, most doctors will not perform abortions after 20 weeks, says Philadelphia district attorney Seth Williams.
"This doctor gained the reputation far and wide that he'd perform abortions at anytime," says Williams, who is prosecuting the case.
Already a mother of one child at the time, Ransome said she was not in a position to care for a new baby, adding that her grandmother was helping her raise her son.
She learned about the Women's Medical Society from a friend who previously had an abortion performed at the clinic.
"No, I didn't hear about none of that stuff that is going on now," she says.
However, she does recall thinking something was out of place at the doctor's office.
"It don't look dirty just by sitting in the waiting room, but once you in the rooms, you could tell it ain't right," she says. "I seen blood like on the table that he had the utensils on."
Gosnell is also accused of reusing unsanitary instruments and performing procedures in filthy rooms, while flea-infested animals roamed the hallways.
He is also accused of allowing unlicensed employees to perform operations and administer anesthesia, including a teenage high school student, according to Williams.
In addition, prosecutors say he falsified gestational ages on records. Gosnell, who is not certified to perform abortions, was arraigned January 20 and is being held without bail.
He has yet to enter a plea. Williams says he may seek the death penalty for Gosnell.
A month after her abortion, Ransome had to have open-heart surgery. She believes she contracted an infection from the equipment Gosnell used which lead to endocarditis, inflammation of the lining of the heart, resulting in her having the open-heart surgery.
No definitive link has been made between her visit to the Women' Medical Society and her medical ailments. Ransome is not a part of the district attorney's case.
"That was the most painful time of my life," she says.
Due to an infection, Ransome needed around-the-clock care following her heart surgery. She spent nearly four months in a nursing home because she was unable to feed herself and had difficulty walking, she says.
She returned to her grandmother's home following her stay at the nursing home. Not fully recovered, Ramsome became depressed, she says.
Then, one day her toddler son reached out for her to pick him up -- something she was unable to do physically.
"That's what made we want to get up," she says. "At one point I had started giving up."
Ransome has not decided whether she plans to pursue a lawsuit against Gosnell. Despite her ordeal, Ransome says she doesn't think Gosnell should be given the death penalty.
"It's too easy," she says. "If they can give him life, then give him double life, then triple life, that's what need to happen, I don't think he should get the death penalty."
Gosnell's attorney, William J. Brennan, told CNN that he "hopes there is no rush to judgment in this case."
"Dr. Gosnell should enjoy the same presumption of innocence anyone in this country, you or me, should get if we were charged with a crime," said Brennan.
Gosnell is next scheduled to appear in court on February 9.
Ransome, who now lives near Wilkes-Barre, roughly two hours north of Philadelphia, is currently working toward her GED. She gave birth to a second child, her one-year-old daughter Asia, who played at her feet.
"She's the miracle baby: I was told I wasn't going to be able to have more kids," she says. "I am truly sorry for what I did. I'm working on living how I'm supposed to live."
FOLLOW THIS TOPIC