STORY HIGHLIGHTS
NEW: Hard-freeze warnings in effect for southern Texas, Louisiana
Dallas police responded Friday to 29 major accidents and 51 minor ones due to weather
Dallas' Love Field reopened Friday afternoon after being closed for most of the day
Ice and snow slid off the roof of the Cowboys Stadium, causing minor injuries
For more on travel delays, follow @CNNTravel on Twitter.
(CNN) -- Weather-weary travelers endured more frigid weather Friday as a band of snow and sleet pummeled areas stretching from Texas into Tennessee.
Ice caused 800 crashes across the Houston metropolitan area, and many freeways were closed because they were too dangerous to navigate, CNN affiliate KPRC reported.
Hard-freeze warnings were in effect late Friday for southern Texas and Louisiana.
Hundreds of flights were canceled as the winter weather threatened the plans of Super Bowl enthusiasts headed to Sunday's big game in Arlington, Texas.
"It's too bad this occurred much like it happened in Atlanta with their Super Bowl," said Arlington Mayor Robert Cluck.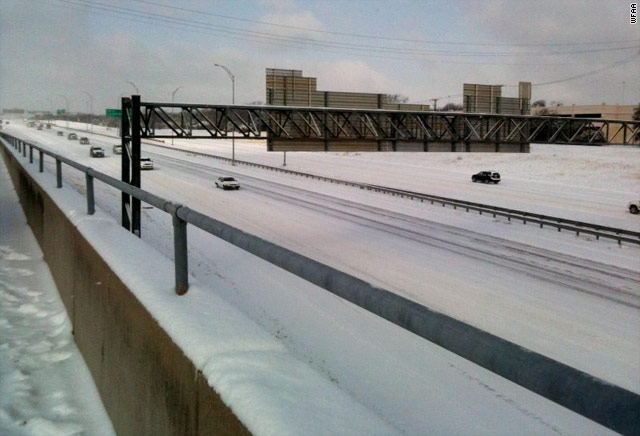 Gallery: Deep freeze in the Deep South

Worker makes snow angel on runway

Hundreds of flights canceled in Dallas

Snow crushes commercial building
"It's something you can't control."
The Dallas area was under a winter storm warning Friday. Temperatures were in the low 20s and snow had accumulated up to 6 inches in places.
"The snow and ice over the last couple of days has been surreal," said Dallas resident Sam Inman.
Six hundred flights were canceled Friday at Dallas Fort Worth International Airport, while Love Field Airport in Dallas reopened Friday afternoon after being closed for most of the day, said officials and CNN Dallas affiliate WFAA.
Dallas police had responded to 29 major accidents and 51 minor ones since Friday morning as the inclement weather hampered travelers across the city, according to police spokesman Kevin Janse.
Ice and snow also slid off the roof of Cowboys Stadium -- the location of Sunday's Super Bowl.
Gusty winds on the south side of the stadium sent ice falling up to 50-60 feet from the stadium, striking contract employees, according to fire department officials.
One man was struck in the head by ice and was in stable condition at John Peter Smith Hospital in Fort Worth, said Lt. Pedro Arevalo of the Arlington Fire Department. Five other men and women had minor injuries, he said.
All stadium entrances have been closed except for an adjacent truck tunnel, which workers and visitors will exit through as a precaution, said NFL spokesman Brian McCarthy.
In southeast Texas, Corpus Christi International airport was closed Friday due to ice, authorities said, while freezing rain and snow coated much of downtown Houston.
The band of freezing weather also stretched into Louisiana and parts of Arkansas, Tennessee and Missouri, forecasters said, and warnings of snow and cold stretched into Ohio for Friday night and Saturday. A wintry mix was expected to move into eastern Pennsylvania and the New York City area Saturday.
Rain was widespread south of the area of ice and snow, with a flood watch issued for much of Georgia.
American Airlines canceled 630 flights out of Dallas on Friday, according to company spokesman Ed Martelle, who said the airline had canceled 739 flights nationwide.
In New Orleans, a mix of rain and sleet fell on the city's northern districts and outlying neighborhoods.
Louisiana Gov. Bobby Jindal declared a state of emergency Thursday in anticipation of the weather, activating the state's Crisis Action Team to monitor possible hazardous conditions that could affect parts of the state over the next few days.
State government offices in 55 Louisiana parishes were closed Friday because of the wintry weather.
Southwest Airlines canceled all flights to Corpus Christi, Harlingen, and Houston Hobby airports in Texas on Thursday, according to company spokesman Marilee McInnis. The carrier called off a total of 157 flights, she said.
Continental Airlines said it suspended most of its operations from Houston Intercontinental Airport from Thursday afternoon through midday Friday because of the expected icy precipitation.
Houston also closed schools Friday, according to school district spokeswoman Sarah Greer Osborne.
CNN's Dave Alsup and Chris Welch contributed to this report.
FOLLOW THIS TOPIC