Fugitive sought in Arizona slaying caught in Argentina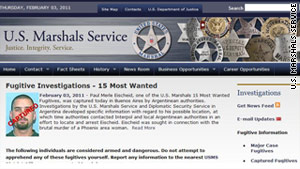 Former stockbroker Paul Merle Eischeid had been on the U.S. Marshals Service's "15 Most Wanted" list since 2007.
STORY HIGHLIGHTS
Five of the U.S. Marshals' "15 Most Wanted" fugitives have been caught since March
Paul Merle Eischeid was arrested Thursday in Argentina
He is charged in a 2001 killing in Arizona
He became a fugitive after fleeing in 2007
(CNN) -- Paul Merle Eischeid, one of the U.S. Marshals Service's "15 Most Wanted" fugitives, is no longer on the run.
Argentine authorities captured Eischeid, 39, on Thursday in Buenos Aires, according to the U.S. Department of Justice.
Federal law enforcement officials added Eischeid to the most wanted list in 2007 when he fled after his arrest in a 2001 slaying that the Marshals Service called one of the "most grisly" in recent American criminal history.
The Marshals Service originally apprehended Eischeid -- described in a Justice Department statement as a former stockbroker and member of the Hells Angels motorcycle gang -- in 2007 for questioning in the 2001 killing of 44-year-old Cynthia Garcia of Phoenix.
Garcia was attacked while attending a party at the Hells Angels' clubhouse in Mesa, Arizona, severely beaten, thrown in the trunk of a car and taken to the desert, where she was stabbed and left to die, said David Gonzales, U.S. marshal for the Arizona district.
Based on Eischeid's career as a stockbroker and his relatively clean criminal record, he was released on his personal recognizance and placed on federal pretrial release with electronic monitoring, the agency said.
In 2003, Eischeid was arrested after being indicted in a separate federal investigation on drug trafficking and organized crime charges, including counts of kidnapping and murder. During their investigation, agents of the Bureau of Alcohol, Tobacco, Firearms and Explosives learned Eischeid was wanted in connection with Garcia's death.
But by then, Eischeld had removed his monitoring device, and he later fled Arizona, federal authorities said.
With the help of Interpol, investigations lead by the U.S. Marshals Service and Diplomatic Security Service in Argentina developed information on Eischeid's whereabouts.
"Eischeid's crimes were horrendous and his potential for continued violence made his arrest a priority for the U.S. Marshals," said Stacia A. Hylton, director of the U.S. Marshals Service in a statement.
"His capture is both significant and rewarding, and we thank our domestic and international partners for their tireless persistence in bringing this fugitive to justice."
Since March, five fugitives on the U.S. Marshals "15 Most Wanted" list have been captured, according to the agency's website.
FOLLOW THIS TOPIC