STORY HIGHLIGHTS
Micaela Pond knew teacher Christa McAuliffe, chosen to be the first teacher in space

She was 17 when the Challenger exploded, killing McAuliffe and six astronauts

Pond says McAuliffe inspired her to become a teacher

"I don't think we [as a nation] lost as much as we gained," Pond says about Challenger

(CNN) -- Twenty-five years ago today, Concord, New Hampshire, was abuzz with excitement as teacher Christa McAuliffe was about to make history.
Thousands of educators had applied to be the first teacher in space, but NASA chose McAuliffe, a 10th-grade social studies teacher at Concord High School.
Micaela Pond, who was 17 and McAuliffe's neighbor at the time, remembers getting a ride home one day from the teacher turned astronaut.
She still recalls giggling when McAuliffe first told her she wanted to fly into space. "How is that possible?" she asked at the time. She remembers thinking, "Women don't go up into space, [and] teachers for sure don't go up into space."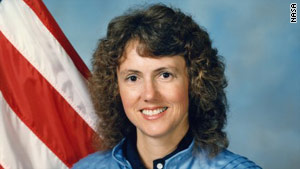 Christa McAuliffe, 37, would have been the first teacher in space. She died with six others aboard the Challenger.
McAuliffe was more than just a neighbor to Pond. She also taught Sunday school at her church, and Pond often baby-sat McAuliffe's two children.
McAuliffe "made teaching fun, and all the students that had her loved her," she said.
On January 28, 1986, the day of the Challenger shuttle launch, Pond remembers the Concord High School auditorium filled with students and media, watching the launch on TV.
"We were all wearing party hats and whistles, and we were thrilled for our teacher," Pond said.
But the party didn't last long. Challenger exploded 73 seconds into flight. McAuliffe and the six astronauts aboard died.
"There wasn't a dry eye in the house, and I think the realization hit us quite quickly, 'this isn't good.' " Pond recalled in a quiet voice.

1986: NASA Challenger news conference

Challenger disaster remembered

1986: Spectators watch Challenger explode

Inside CNN when Challenger exploded
Shortly afterward, Pond knew what she wanted to do with her life: become a teacher.
She credits McAuliffe for the inspiration.
"I feel very lucky to have known her, and I try very much to inspire my students: Whatever your dream may be, it's possible," Pond explained. "Here's an ordinary person -- she was just like me -- an ordinary person who did an extraordinary thing."
McAuliffe's legacy
Pond is about to read a book to her students at Francis Scott Elementary in Arlington, Virginia, just outside Washington, D.C.
"What genre of writing have we been focusing on?" Pond asks her fifth-graders.
Nearby, a picture of McAuliffe in her astronaut uniform sits next to her desk. Her students are well aware of why the picture means so much to their teacher.
"She knew her pretty well, so she feels that she is kind of part of her life," Kayla says.
John, another student, quickly chimes in: "She was going to be the first teacher in space."
Pond says she has copied a lot from her neighbor.
"I live across the street from my school, I'm a neighborhood teacher, I walk to school just like Christa did," she said. "I try very hard to let my students know I'm not just a 9-to-5 teacher."
Pond isn't sure what she would have done with her life if that cold Florida day a quarter of a century ago had ended differently. But one thing she does know is that this country is better because of it.
"I don't think we lost as much as we gained, and I feel strongly about that," she said. "Twenty-five years later, we have schools named after her and Challenger centers where kids are getting to do hands-on science, and these are wonderful things that wouldn't have happened if that tragedy didn't occur."
FOLLOW THIS TOPIC