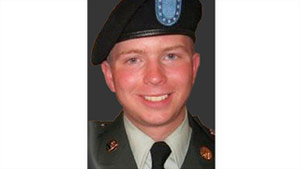 Pfc. Bradley Manning 's attorney has complained that Manning is being unfairly treated in detention.
STORY HIGHLIGHTS
The change of commander is not in response to attorney's complaint, Marines contend
Manning's attorney filed the complaint after Manning was put on suicide watch
He has been moved back to "prevention of injury" watch status
Washington (CNN) -- The Marines have changed the commander of the detention facility where WikiLeaks suspect Pfc. Bradley Manning is being held, days after his attorney filed a complaint claiming that Manning is being unfairly treated in detention.
Chief Warrant Officer James Averhart, who had been in charge of the detention facility at Marine Corps Base Quantico in Virginia, was replaced by Chief Warrant Officer Denise Barnes, Quantico spokesman Lt. Brian Villiard said.
The change in command was ordered back in October and is not related to the concerns raised by Manning's lawyer, said Villiard. But Manning's lawyer is holding out hope that the new commander will move his client to a less restrictive incarceration status.
"We are hopeful that she will do a complete review of Pfc. Manning's custody situation," attorney David Coombs, told CNN. Manning's current situation "is unwarranted and unnecessary while he awaits trial," Coombs added.
Manning has been behind bars since July, charged with leaking classified government documents including a classified military video of an attack in Iraq that was posted online by WikiLeaks.
Manning is facing eight counts of violating the U.S. criminal code for allegedly leaking the video. He is also believed to be the prime suspect in the latest leak of scores of documents to WikiLeaks.org. It was the largest ever intelligence leak in American history.
The military has staunchly defended Manning's incarceration status. He is currently on what is known as "prevention of injury" status but just last week, Manning was put on suicide watch for two-and-a-half days.
Manning's lawyer formally objected to the change of status, filing a complaint under the military's Article 138.
"He was stripped of all clothing with the exception of his underwear. His prescription eyeglasses were taken away from him," Coombs wrote in a blog entry about the complaint filing. "He was forced to sit in essential blindness with the exception of the times that he was reading or given limited television privileges. During those times, his glasses were returned to him."
Manning was taken off suicide watch following a review of the situation by the Army staff judge advocate's office. Marine spokesman Villiard insisted the detention facility commander was within his rights to make the status change, but Villiard would not say why Manning's status had been changed.
"The brig commander has the ultimate responsibility to determine what status a detainee is given. He based the decision on information from psychological professionals, the medical staff and the Marine guards who are interacting with him around the clock. The commander was absolutely within his right. Not just his right, his responsibility," said Villiard.
The less restrictive "prevention of injury" watch means Manning is confined to his cell 23 hours a day with no sheets or personal items. His mattress has a built-in pillow and he is allowed two blankets -- but they're designed seamless so they can't be torn, Villiard said. When he sleeps, he must strip to his underwear and surrender his clothing to guards.
Coombs said Manning's only exercise is when he is taken to an empty room and allowed to walk. But another military spokesman, Marine Col. David Lapan, said if Manning spends his exercise time walking, that's his choice among alternatives.
"He is allowed to do many other things (e.g. treadmill, push-ups, situps, etc) during his exercise time (but not in his cell)," Lapan said in an e-mail to CNN.
Meanwhile, Pentagon spokesman Geoff Morrell said on Wednesday that Manning is being treated no differently than any other detainee at the Quantico facility,
"I think the manner in which he is being held is completely appropriate and completely consistent with how any and all detainees at the brig are treated," Morrell said.
But Coombs contended that the military psychiatrist involved has consistently recommended putting Manning in even less stringent conditions, adding there was no reason to keep him on "prevention of injury" watch.
The forensic psychiatrist will meet with Manning this week, Villiard said, and make a recommendation to a classification and assignment board, which will then advise the new commander, Barnes, whether Manning should stay on that watch level. She has the final say on whether Manning comes off "prevention of injury" watch or goes into another custody level such as a less stringent medium custody, Villiard said.