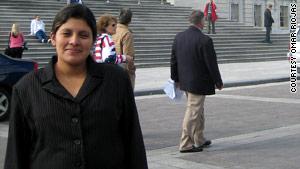 Encarnacion Bail Romero says she did not give permission for her son to be adopted. A court agrees.
STORY HIGHLIGHTS
Encarnacion Bail Romero was in prison when her son was put up for adoption
Missouri's supreme court sends the case back for a retrial
The adoptive parents argue it will prove harmful for the child to be taken from them
The birth mother says she loves her son and wants him back
(CNN) -- It is a case so heart-wrenching that a key ruling referenced the biblical Solomon, who, a Missouri judge said, at least had the option to decree that the child be cut in half.
Now, after the Missouri Supreme Court reversed a lower court's earlier parental rights decision, many more months are likely to pass before it's known who will have custody of a 4-year-old boy born to an undocumented Guatemalan woman and adopted without her consent by an American couple in Carthage, Missouri.
In a decision handed down Tuesday, the state's high court ruled that Missouri violated its own laws in terminating the parental rights of Encarnacion Bail Romero, who was imprisoned after a 2007 immigration sting at a poultry processing plant.
But instead of ordering the child returned to his biological mother, it sent the case back to a lower court for retrial.
"The trial court plainly erred by entering judgment on the adoption petition and terminating (the) mother's parental rights without complying with the investigation and reporting requirements," Judge Patricia Breckenridge wrote in the court's principal opinion.
"The trial court's judgment terminating (the) mother's parental rights, allowing the adoption to proceed without (the) mother's consent to the adoption, and granting of the adoption, although supported by clear, cogent, and convincing evidence on the record, is reversed. The cause is remanded for a new trial in which (the) adoptive parents and (the) mother will have the opportunity to present evidence on all claims in all counts of the petition that pertain to (the) mother."
That means the legal fight will continue for the boy, known as Carlitos to his biological mother and Jamison to Seth and Melinda Moser, who have raised him since just before his second birthday. It's a battle involving child adoption laws as well as controversial immigration issues.
Many who support Bail Romero's cause -- including the Guatemalan ambassador to the United States, who has been present at some of the court hearings -- have argued that Bail Romero's undocumented status should not have any effect on her maternal rights.
In a phone interview with CNN on Wednesday, Bail Romero, 35, expressed elation over the court ruling -- and the hope that her son might be returned to her soon.
The last image she's seen of her son was a passport photo of him taken months after she was detained in May 2007. She has another son, 13, and a daugther, 8, who both are being raised in Guatemala by her sister, she said.
"I was so happy to hear of the court decision because I hope to see my son," said Bale Romero, who is now living in Carthage, Missouri, while the case involving her son is in the courts.
"It's been so long since I've seen my son. I am always sad and I cry and I think of my poor son who hasn't seen his mother. I will be happy when Carlitos finally sees me."
She doesn't even know where exactly her son is being raised, she said.
"I'm going to buy him toys and clothes when I see him," she added. Bale Romero has a stay on her deportation order until February 2012 so that she press her case in court, said her attorney, Omar Riojas of Seattle.
The Mosers could not be reached for comment Wednesday, but their attorney, Richard Schnake, said the couple's position has not changed: They played by the rules in adopting the boy and have provided him with a loving, stable home.
In December, as they were waiting for the state supreme court ruling, Seth Moser told CNN that he and his wife were the only parents the boy had ever known. They heard him speak his first words and watched him take his first steps.
"God has given us a little boy and the responsibility of taking care of him and loving him, and that's all we've done since the first day we've had him," he said.
"It's almost like preparing for someone in your family to die," he said. "How do you explain to your 4-year-old that there's an issue and that he has to go with this other person he doesn't even know?"
Schnake said it was in the best interests of the child not to be taken away from the people he knows as mommy and daddy.
"If I were in her shoes, I think my view would be different," he said about Bail Romero's claims on the boy.
One of Bail Romero's attorneys, however, viewed the state supreme court decision as a victory and remained confident that Bail Romero would win back the child she loves.
"We are very happy," said Omar Riojas. " It is our contention that the adoption should have never taken place. We have a new trial and we fully expect to prevail."
The story of this custody battle has taken many soap opera twists and turns.
It began with Bail Romero's illegal entry into the United States. She stole a Social Security card and was working at George's Inc., a Missouri poultry processing plant in May 2007 when she was swept up by immigration agents.
Instead of being deported she was thrown behind bars. Her son was only 6 months old.
Her brother and sister took care of the boy at first, attorneys in the case said. Eventually they sought help from Jennifer and Oswaldo Velasco, a clergy couple who offered baby-sitting services. When the Velascos asked to adopt the boy, Bail Romero refused, Riojas, said.
The couple introduced the boy to the Mosers and eventually put him up for adoption -- an act the boy's biological mother said they lacked the legal ability to do. The Mosers soon asked a judge for temporary custody, Schnake said.
Bail Romero -- in prison at the time -- did not contact the Mosers or their attorney or object to them having custody, Schnake said. After a judge granted the Mosers temporary custody, they waited a year -- rather than the six-month minimum stipulated by Missouri law -- before asking to adopt the boy, Schnake said.
Bail Romero said, however, that she did not fully understand what was going on and certainly did not give her blessing for them to adopt her son. She wrote a note from her cell to the court saying that she would rather see her son in foster care until she was freed from jail, Riojas said.
In October 2008, a judge approved the adoption, ruling that Bail Romero had abandoned her child by not trying to contact the Mosers for a year. Bail Romero said she doesn't speak English and was left with no way to ask for help to plead her side.
Then, in July 2010, a court ruled that the adoption was invalid, a ruling appealed by the Mosers, who argue that it would prove detrimental to the boy to be separated from them.
In Tuesday's ruling, all seven Missouri Supreme Court judges agreed to reverse the termination of Bail Romero's parental rights. Some of them also said the boy should be returned to Bail Romero immediately instead of waiting for the lower court to rule again.
Judge Michael Wolff said if the child is not returned to his birth mother, the case could drag on well past the child's tender years. He argued that there is no evidence that Bail Romero neglected her child before the adoption hearing.
"The passage of time does not make a wrong a right," Wolff wrote in a separate opinion.
"Does the principal opinion remand this case to the circuit court with the hope that the court somehow will resolve this case with the wisdom of Solomon?" he wrote. "At least Solomon had the option to decree that the child be cut in half. All we lesser judges have is the law, and it is our duty to make sure that the law is obeyed. Not in 90 more days or 900 more days, but now."
The federal government eventually intends to deport Bail Romero to Guatemala, where her other two children live, but has delayed the proceedings until this case is complete.
Fernando de la Cerda, minister counselor for the Guatemalan Embassy, called the case "very serious" because a child was taken away from his mother. He said this would never have happened if Bail Romero had not been an illegal immigrant.
"We are pleased the court recognized that the mother's rights had not been respected and the state's own laws and due process were not followed," de la Cerda said of Tuesday's decision. "We hope that in a new court trial, these errors will be corrected so that Ms. Romero will receive justice and have her parental rights restored."
Riojas said Bail Romero intends to ask for visitation rights in the next few days. If she is granted a visit, it will be the first time for her to see her son in more than three years.
CNN's Moni Basu, Michael Martinez and Mariano Castillo contributed to this report
FOLLOW THIS TOPIC