Report: Record $2.5 billion returned to Medicare from fraud cases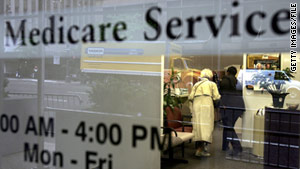 Medicare is a federal health care insurance program that serves people ages 65 and older and people with disabilities.
STORY HIGHLIGHTS
More than 1,100 new fraud probes began in 2010
Medicare has gotten back $18 billion since the late 1990s
Washington (CNN) -- The federal government returned a record total of more than $2.5 billion to the Medicare program from settlements and court judgments surrounding health care fraud cases last year, according to a government report issued Monday.
An overall total of $4 billion was collected, including hundreds of millions in funds recovered for other federal agencies and payments to whistleblowers, the Justice Department said.
Results reflect both the continuing array of efforts to swindle the government Medicare program and a stepped-up effort by law enforcement to combat them, officials said.
The 84-page annual joint report by the departments of Justice and Health and Human Services is the 14th annual report mandated by Congress after a health care law established a Health Care Fraud and Abuse Control Program.
HHS Secretary Kathleen Sebelius and Associate Attorney General Thomas Perrelli said the funds recovered and returned to the Medicare Trust Fund represent a successful return on investment of nearly $5 seized for every dollar spent on programs to fight fraud.
Overcharges to the Medicare program included a variety of invoices submitted by doctors, hospitals, pharmaceutical and device manufacturers.
One of the most blatant cases came in the Los Angeles area where a hospital recruited homeless patients to receive unnecessary in-patient services. Those who recruited the patients received kickbacks. The former chief financial officer of the Tustin, California, hospital pled guilty to the scheme last April. He was one of 726 defendants convicted during the past year for health care fraud related crimes, the report said.
There may be even more convictions next year. The report says authorities opened more than 1,100 new fraud probes in 2010 involving more than 2,000 potential defendants. That's in addition to more than 1,700 pending criminal investigations.
With the 2010 recoveries, the government has now received about $18 billion from fraudsters since the anti-fraud program began in the late 1990s, officials said.
A Senate committee has scheduled a hearing for Wednesday to further examine efforts to curtail health care fraud.
FOLLOW THIS TOPIC