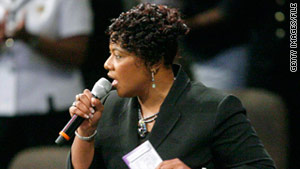 The Rev. Bernice King says she will shift her focus to advancing the family legacy's growth.
STORY HIGHLIGHTS
NEW: Board wishes the Rev. Bernice A. King "great success"
The daughter of Martin Luther King Jr. says she's devoting her time to ministry, mother's legacy
She was elected to the office in October 2009, but never served
The organization has seen a power struggle dating back about a decade
(CNN) -- The daughter of the Rev. Martin Luther King Jr. has declined the post her father once held as president of the Atlanta-based Southern Christian Leadership Conference, saying she was interested in being more than a "figurehead."
The Rev. Bernice A. King was elected to the office in October 2009, but never served as president as a string of legal battles divided the 53-year-old organization.
Bernice King told CNN political contributor Roland Martin she made suggestions to the organization in October about how the presidency might operate. She said she felt "disrespected" because there was no formal communication until earlier this month.
"What they sent back was merely a job description that primarily spoke to a board-driven organization," King said. "I was elected to lead the organization. I was frankly not interested in merely being a figurehead of the organization."
"I envisioned SCLC emerging as the vanguard for next-generation nonviolent activism in the tradition of my father," King said in a statement earlier Friday. "Amidst the turmoil, chaos and confusion surrounding SCLC over the last 15 months, my team and I dedicated an exhaustive amount of time, energy and resources to assess the organization and prepare for my transition."
The group's national board of directors said King was shifting "her attention to furthering her mother's legacy and embark upon other ministry initiatives.
"We wish the best for Elder Bernice King, and pray for her great success as she moves forward," it said in a statement.
A judge in Fulton County (Georgia) Superior Court ruled in September 2010 the current national board should be in charge, instead of another faction, although that decision is under appeal.
Dr. Howard Creecy, acting president of the SCLC, told CNN that the board supported King's right to make a "quality decision."
"We never asked for the storms we had to pass through," he said, indicating the gap between King's election and her taking the presidency was a "lengthy period."
The SCLC "gave a voice" to people affected by the Gulf oil spill disaster and remains concerned about the plight of the poor, Creecy said, adding that the group is "restoring our credibility."
Bernice King said she now plans to shift her attention to furthering the legacy of her mother, Coretta Scott King, and pursuing ministry initiatives. "We wouldn't know Martin Luther King as we know him if it were not for all of her work."
Coretta Scott King died in January 2006, 38 years after her Nobel Peace Prize-winning husband was assassinated.
The SCLC has seen a power struggle dating back about a decade, said Ralph Luker, a retired professor who specialized in the civil rights movement and has been an observer of the organization.
Bernice King's brother, Martin Luther King III, was president of the SCLC from 1997 to 2004. They and sibling Dexter King had been locked in a bitter legal battle over their parents' estates and rightful succession.
The group, which has chapters and affiliates throughout the country, was a leading organization during the civil rights movement in the 1960s.
Bernice King told Martin she wants to work with the National Hispanic Christian Leadership Conference on education, health care, immigration and other issues.
"Regardless of what institution, the work of my father will continue," she said.
It's now up to the SCLC to determine the proper leadership model, the minister told CNN.
"I will continue to pray for them to move forward in a positive direction," Bernice King said.
Dr. Bernard LaFayette Jr., vice chairman of the SCLC, said the organization will move forward. "She deserves the right to make her own assessment," he said of Bernice King.
CNN's Phil Gast contributed to this report.
FOLLOW THIS TOPIC