Chihuahua survives owl attack in Illinois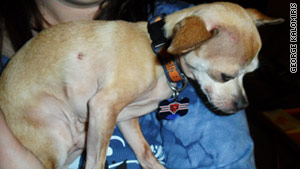 Chico suffered a puncture wound when he was attacked by an owl while on a late-night stroll with his owner.
STORY HIGHLIGHTS
The 4-pound puppy was taking a walk
He was treated for a puncture wound
(CNN) -- A 4-pound Chihuahua is lucky to be alive after an owl swooped down and tried to snatch it during a neighborhood walk.
The dog, Chico, and owner George Kalomiris were taking a late-night stroll in their Chicago suburb of Crystal Lake, Illinois, when a great horned owl attacked.
Kalomiris said he lunged at the owl, which got caught in the dog's leash, and ultimately was able to scare it away.
Chico's vest saved him because it prevented the owl's talons from digging in deeply enough to latch onto him, according to Kalomiris.
Chico was treated for a puncture wound at a nearby animal hospital, Kalomiris said