'Suspicious item' reported on plane in Miami, declared safe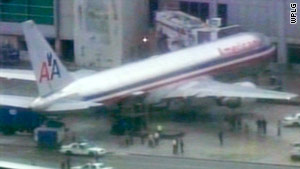 The suspicious item was found as cargo was being unloaded from the plane in Miami on Monday.
STORY HIGHLIGHTS
The item has been declared safe, the TSA says
Authorities responded after the plane landed in Miami
The flight was from Sao Paulo, Brazil
Miami (CNN) -- An American Airlines plane was searched and cleared at Miami's airport Monday after a "suspicious item" was identified in its cargo hold, the Transportation Security Administration said in a statement.
American Airlines Flight 930 from Sao Paulo, Brazil, landed in Miami at 8:46 a.m., the agency said. "In the process of unloading cargo, a suspicious item was identified," it said.
"Out of an abundance of caution, local law enforcement and EOD (explosive ordnance disposal, or a bomb squad) arrived on scene to inspect. The item was cleared and declared safe at 10:37 a.m.," according to the statement. The agency did not disclose details about the item.
Earlier, American Airlines spokesman Tim Smith said that no explosive material or devices were found on board the plane. He said that empty fuse holders were found and described them as like a fuse but not an explosive device.
The flight had 169 passengers and 11 crew members on board, Smith said.
CNN's Anna Rhett Miller and Mike Ahlers contributed to this report.
FOLLOW THIS TOPIC