Backup shuttle commander named for wounded congresswoman's husband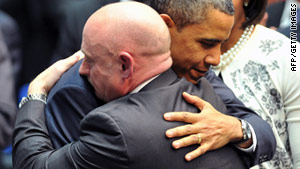 President Obama hugs astronaut Mark Kelly during a memorial to Kelly's wife Wednesday in Tucson, Arizona.
STORY HIGHLIGHTS
Astronaut Mark Kelly remains the Endeavor commander
The backup astronaut will allow others to train while Kelly is away
Commander Kelly has been with his wife since the day she was shot
Kelly's shuttle mission is set to launch on April 19, 2011
(CNN) -- NASA named a backup shuttle commander for astronaut Mark Kelly, who is the husband of U.S. Rep. Gabrielle Giffords and was scheduled to lead an April Endeavour space mission before his wife was shot.
Kelly, a veteran shuttle astronaut, has been at his wife's hospital bedside, where she is recovering from last Saturday's assassination attempt at a Tucson, Arizona, grocery store.
He remains commander of the STS-134 shuttle mission, which is set for an April 19 launch, but astronaut Rick Sturckow will serve as a backup commander "to facilitate continued training for the crew and support teams" while Kelly is away, NASA said Thursday.
"I recommended to my management that we take steps now to prepare to complete the mission in my absence, if necessary," Kelly said in a written statement released by the space agency. "I am very hopeful that I will be in a position to rejoin my STS-134 crew members to finish our training."
Peggy Whitson, chief of the Astronaut Office, said Kelly is "facing many uncertainties now as he supports Gabrielle," and naming a backup "enables Mark to focus on his wife's care."
"Our goal is to allow him to keep his undistracted attention on his family while allowing preparations for the mission to progress," Whitson said.
FOLLOW THIS TOPIC


Part of complete coverage on

In the days and weeks to come, Rep. Gabrielle Giffords' recovery from a gunshot wound to the head will be a marathon, not a sprint, doctors say.

Doctors for Rep. Gabrielle Giffords have upgraded her condition from serious to good, and said she may be transferred to a nearby rehabilitation hospital Wednesday morning.

A federal judge entered a plea of not guilty Monday on behalf of Jared Lee Loughner to three counts of attempted murder in the mass shooting that wounded U.S. Rep. Gabrielle Giffords earlier this month.

Gabrielle Giffords has been able to stand with assistance. "She's activating her muscles even more than what I had anticipated," one doctor says.

Rep. Gabrielle Giffords arrived in Houston, Texas, on Friday to continue her recovery from a gunshot wound to the brain, her office said.

The next phase of recovery for U.S. Rep. Gabrielle Giffords is likely to begin later this week when she will be transported to a rehabilitation hospital in Houston.

Rep. Gabrielle Giffords was worried about her safety long before she was critically wounded in a mass shooting that killed six people in Arizona, her husband said in a new interview.

Arizona shooting suspect Jared Loughner photographed himself posing with a 9mm handgun while wearing a red G-string, a law enforcement source said.


Most popular stories right now