Hospital personnel fired for accessing records of Tucson victims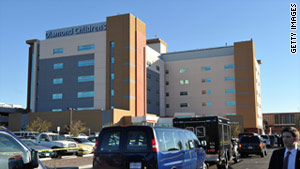 University Medical Center in Tucson contacted families of patients whose records were accessed inappropriately.
STORY HIGHLIGHTS
A hospital spokeswoman would not say which patients records were accessed
Three hospital clinical support staff and a contracted nurse were fired, she says
The patients' families have been notified, she says
Tucson, Arizona (CNN) -- Three clinical support staff members and a contracted nurse at University Medical Center in Tucson have been fired "for inappropriately accessing confidential medical records," a spokeswoman for the hospital said Wednesday.
Katie Riley said the incident was related to Saturday's shootings at a Tucson supermarket that wounded 13 -- including a U.S. Rep. Gabrielle Giffords -- and killed six. But she would not offer further details and did not say which patients' records were accessed.
"The hospital has terminated three clinical support staff members this week for inappropriately accessing confidential electronic medical records, in accordance with UMC's zero tolerance policy on patient privacy violations," the hospital said in a statement.
"A contracted nurse also was terminated by the nurse's employer. We are not aware of any confidential patient information being released publicly," the statement said.
The hospital said it has notified the families of patients whose information was accessed.
FOLLOW THIS TOPIC