Dali Museum opens new location with pizazz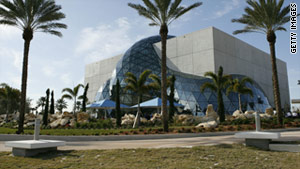 The new Dali Museum in St. Petersburg features 2,140 pieces, including 96 oil paintings.
STORY HIGHLIGHTS
Salvador Dali Museum opens new location in St. Petersburg, Florida
The museum cost about $36 million and took two years to build
Spanish artist was a friend of couple who collected his work
(CNN) -- A parade featuring characters reminiscent of Salvador Dali's cosmic creations marked the grand opening Tuesday of the new location for a Florida museum featuring the master's works.
The surrealist painter no doubt would have appreciated the memorable moment for the ceremony -- 11:11 a.m. on 1/11/11.
The parade featured bands and a cast of notables, from Dali and Frida Kahlo lookalikes to surrealist models and a robed figure walking on stilts and featuring a snail for its head.
"Snails are a symbol of Dali's," said museum marketing director Kathy White.
The new Dali Museum in St. Petersburg cost $36 million, took two years to build and replaces an older version eight blocks away. It claims to hold the largest collection of his work outside Dali's native Spain, with 2,140 pieces, including 96 oil paintings and eight master works.
In between the galleries, there is an homage to Dali's fascination with science and the DNA molecule -- a 75-foot spiral (helix) staircase that takes patrons to the third floor.
"It doubles our gallery space," White said of the new location. "We have works from the entire spectrum of Dali's career."
The museum, on the waterfront, added an 85-seat cafe and features a large patio and an "Avant Garden."
Eleanor Reese Morse and A. Reynolds Morse, friends of the artist, were major Dali collectors and opened the original Salvador Dali Museum in 1982. They specifically wanted a 900-panel geodesic dome featured in the new location.
Attendance has hovered around 200,000 annually, said White, adding she expects more visitors.
"We have maintained our numbers pretty well," she said. At a time when obtaining grants has become challenging, the venue depends heavily on European visitors, admission proceeds and gift shop sales. The museum raised its base admission price from $17 to $21, White said.
Among the Dali works in St. Petersburg are "The Hallucinogenic Toreador," "Portrait of My Sister" and "Self Portrait."
CNN's Phil Gast contributed to this report.
FOLLOW THIS TOPIC