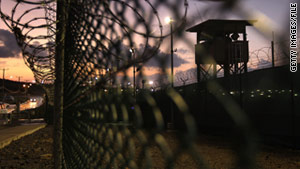 Farhi Saeed bin Mohammed was one of six Algerians held at Guantanamo Bay, Cuba, trying to stop transfers back home.
STORY HIGHLIGHTS
The man had an appeal pending before the Supreme Court
Farhi Saeed bin Mohammed said he might be killed in Algeria
The Defense and Justice departments say a task force looked into the case
Washington (CNN) -- The Obama administration has asked the Supreme Court to dismiss the pending appeal of an Algerian man who until this week was held at the Guantanamo military prison but was unilaterally transferred to his native country over his strong objections.
Farhi Saeed bin Mohammed had argued he would be persecuted or even killed by Algerian officials if sent home. A federal judge in November had ordered the man released from U.S. custody.
The transfer happened Wednesday, Pentagon officials said.
The justices were considering Mohammed's argument that his pending transfer violated U.S. and international laws regarding the treatment of foreign detainees during wartime.
But in a notice sent to the justices, the Defense and Justice departments said a government task force had looked at Mohammed's case.
"As a result of that review, which examined a number of factors, including security issues, Farhi was approved for transfer by unanimous consent among all six agencies on the task force," the Pentagon said in a news release, noting Congress had been informed of the move.
"The United States is grateful to the government of Algeria for its willingness to support U.S. efforts to close the Guantanamo Bay detention facility," the statement said. "The United States coordinated with the government of Algeria to ensure the transfer took place under appropriate security and humane treatment measures."
Mohammed was one of six Algerians held at the U.S. Navy prison at Guantanamo Bay, Cuba, who have filed "habeas" petitions in federal courts to stop their transfer. They say they fear being tortured if sent back to their North African country because of their Islamist beliefs. Lawyers for the men have said their clients also worry the stigma of being a U.S. military prisoner would make the prisoners a victim of Algerian government interrogation and abuse.
A 2008 State Department report on human rights said Algerian security forces have been accused of torturing suspects.
The Supreme Court last summer had rejected a preliminary appeal from Mohammed. Only three justices -- Ruth Bader Ginsburg, Stephen Breyer and Sonia Sotomayor -- said July 16 they would have accepted it "to consider, in the ordinary course, important questions raised in this case."
The government had asked the high court late last month to postpone filing a required legal brief in the ongoing case until February. A December 29 court motion from Justice officials marked "secret" indicated negotiations with Algeria had resumed over the transfer question. Officials were not required at the time to publicly disclose that fact. They had argued in the past that secrecy was required "because of the delicacy of diplomatic negotiations over transfers of Guantanamo detainees to a foreign land," according to the now-public administration motion.
Mohammed's lawyers apparently also were not notified of his transfer until after the fact.
The U.S. military has been under pressure to speed up the process of evaluating the 173 remaining Guantanamo detainees, and freeing those are not considered dangerous past and future terrorists.
Several dozen "high-value" men have been labeled "unlawful enemy combatants" by the Bush and Obama administrations, and many face indefinite incarceration and possible trial before a military commission or civilian federal court.
The Pentagon has said several dozen Guantanamo men are eligible for freedom, and has been negotiating with their home countries to accept them. Pentagon and State Department officials have told CNN they would not repatriate any prisoner to countries where it was "likely" they would be tortured.
Mohammed's case was one of eight pending before the high court contesting a variety of issues over the government's detention policy. The justices are likely to dismiss this latest appeal, following the government's request to do so.
The case is Mohammed v. Obama (10-746).
FOLLOW THIS TOPIC