Authorities: Woman carried 91 heroin pellets in body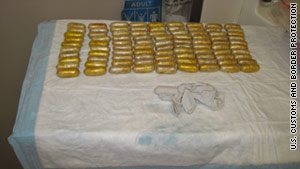 Authorities took Sherifat Lamidi, 32, to a medical facility, where the 91 pellets were expelled, a news release said.
STORY HIGHLIGHTS
Sherifat Lamidi admitted to authorities she was carrying drugs
She had swallowed 91 pellets of heroin, officials say
Such a bust is rare for the Detroit airport
(CNN) -- In the biggest bust of its kind in recent memory, Customs and Border Protection authorities at the Detroit Metropolitan Airport arrested a woman allegedly carrying 91 pellets of heroin inside her body.
In all, 32-year-old Sherifat Lamidi had swallowed 2½ pounds of the drug, packed inside balloon-like packaging, the agency said.
"As far as we are concerned, this is a significant bust," said Randy Dyer, CBP chief for the airport. He said that other airports with more international arrivals, such as Miami, New York JFK and Atlanta, see more cases of drug mules, or "internal carriers" in official lingo.
"For our location here, it's rare," he told CNN.
Lamidi, a Nigerian citizen, originated her itinerary from her home country and flew to Frankfurt, Germany. Once there, she boarded a Lufthansa Airlines flight to Detroit.
A CBP agent flagged her for a closer inspection upon arrival. Lamidi admitted to authorities that she was carrying narcotics, but she said she did not know exactly what she had swallowed or how much, CBP said.
Authorities took her to a medical facility where, under the supervision of doctors, she "finalized the expulsion" of the 91 pellets, according to a CBP news release.
"Basically, they were balloons with heroin," Dyer said.
Lamidi was arrested at the scene, and prosecution against her was pending, he said.
CNN's Jackie Damico contributed to this report.
FOLLOW THIS TOPIC