STORY HIGHLIGHTS
Survey finds 75% of luxury hotel chains charge for Internet, while 2% of midrange hotels do
Why do posh hotels impose the fee? Because they can, experts say
Industry analyst: "It's annoying and there are travelers who find it insulting"
American Hotel & Lodging Association exec: "It's what the market will bear"
(CNN) -- One of the biggest conundrums of travel begins when you check into a hotel and check out the fine print. Why is it that the more posh the accommodations, the more likely you are to have to pay extra for Internet access?
"It's something that drives me and a lot of my clients relatively insane," said Janice Hough, a travel agent who writes for the blog Consumer Traveler.
"They feel nickel-and-dimed. They feel frustrated. If you're paying $500 for a hotel room, you can probably afford $15 or $20 a day for the Internet. But it leaves a bad taste in people's mouth."
Industry figures confirm what many travelers suspect.
Three-quarters of luxury and "upper upscale" hotel chains -- segments that include brands such as Four Seasons, Hilton and Marriott -- charge for in-room Internet access, according to the American Hotel & Lodging Association 2010 Lodging Survey conducted by STR Global.
In comparison, just 2% of full-service midrange hotel chains -- a segment that includes brands such as Holiday Inn -- ask you to pay a fee for surfing the Web in your room, the survey found.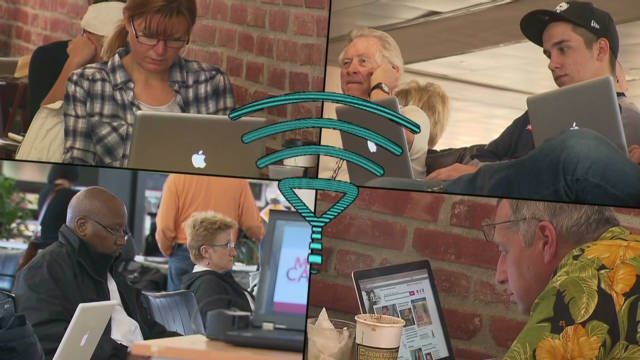 Wi-Fi security at airports
What's particularly baffling to Hough is that the same hotel chain will often provide complimentary Internet in its less expensive properties, while charging for it at the upscale ones.
So you can log on for free at any Marriott Courtyard, for example, but have to pay for the privilege when you stay at a JW Marriott. (The chain waives the fee for elite members of its loyalty program -- more on that later.)
Marriott did not respond to a request for an interview.
'Must-have' amenity
Most travelers these days -- business or otherwise -- view Internet access in their room as essential to their stay as a comfortable bed to sleep in and a hot shower in the morning.
In fact, wireless Internet access is one of the top five "must-have" amenities for hotel guests, according to the J.D. Power and Associates 2010 North America Hotel Guest Satisfaction Index Study.
So why do many upscale and luxury hotels ask guests to pay extra for the privilege?
The answer is simple: Because they can, experts said.
"The hotels charge for Internet because the customers continue to pay for it," said Henry Harteveldt, a travel industry analyst for Forrester Research.
"The belief is that many of these travelers are staying either for business and will be expensing the charge, or if they're staying for personal reasons and can afford to pay the rates the hotel charges, they can afford to pay for the Internet," he added.
"I don't agree with the hotels doing this. I think that it's annoying and there are travelers who find it insulting."
Hough said she was shocked when she stayed at a resort near Disney World in Florida this year and discovered that the hotel was not only charging $14.95 a day plus tax for Internet access, but the fee was per computer. These days, a family of four may travel with three laptops, so the charges would quickly add up, Hough said.
Hotels that impose such fees consider the demographics of their customers and feel they can ask them to pay extra, said Joe McInerney, president and CEO of the American Hotel & Lodging Association.
"I understand the frustration, but it's what the market will bear," McInerney said.
"This is an entrepreneurial society and if the market will bear it, the properties are going to charge for it."
'Medium-level' irritant
There are costs involved for a hotel to install the necessary equipment to provide Internet service, of course.
There's also the bandwidth challenge: With travelers bringing along more and more Internet-enabled devices -- laptops, tablet computers, smartphones -- guests are using far more data now than they were a few years ago, Harteveldt said.
But midrange hotels -- which have lots of competition -- feel they have to offer the amenity for free as a way of attracting business, just as they might provide free breakfast, Harteveldt said.
Those chains also have a higher mix of leisure travelers, and they tend to attract more independent business travelers who may not have big expense accounts.
Meanwhile, high-end hotels haven't had much motivation to change their ways.
"There's grumbling, but there's no pushback" from guests who have to pay for Internet access at these properties, said Jan Freitag, senior vice president at STR Global.
Hough agreed, calling the issue a "medium-level irritant" for her clients -- not something that would keep them from staying at a particular property.
Indeed, almost one in four travelers is willing to pay something for Internet access, Forrester Research found.
Loyalty program perk
But there are ways to get a break.
Some hotel chains let you skip the extra charges by signing up for their loyalty clubs.
Fairmont and Omni provide this perk to all members of their programs, for example.
Other chains reserve it for their most frequent guests. Marriott Rewards offers free Internet access to platinum and gold level members. Hyatt Gold Passport reserves it for platinum and diamond members.
Tech savvy guests can get around the fees by using their smartphones as a Wi-Fi hotspot.
Then, there's always a nearby cafe where you can log on for the price of a cup of coffee.
Meanwhile, industry observers are waiting to see if any of the luxury chains will make the first move toward a free Internet model.
"All it takes is one large player to cave and then everybody else will as well," Freitag said. "We're not quite there yet."
FOLLOW THIS TOPIC