Report: Smaller towns top safe driving list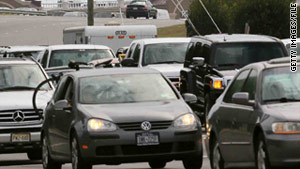 Allstate's annual survey shows the nation's smaller cities have lower accident rates.
STORY HIGHLIGHTS
Accident rates are higher in more populated areas, report says
Fort Collins, Colorado, has the lowest accident rate
The nation's capital has the highest
(CNN) -- Residents of smaller towns get into auto wrecks less often than their counterparts in bigger cities, according to Allstate's seventh annual "America's Best Drivers Report."
For the second year in a row, Fort Collins, Colorado, ranked as the safest city based on frequency of auto accidents.
A typical driver in the city of 145,000 people will be involved in a collision once every 14 years, or nearly 29% below the national average, the report says.
Seven of the 10 safest cities had populations of less than 1 million people. They include Boise, Idaho, and Lincoln, Nebraska.
Larger metro areas did not fare as well.
Drivers in the nation's capital crashed to the bottom of the safe driving list of the country's 200 largest cities for a third straight year, with an accident rate more than 60% higher than the national average. Joining Washington at the bad end of the fender-bender tally were Baltimore, Los Angeles and Newark, New Jersey.
In its safety tips for drivers, the insurer advises minimizing distractions, leaving a safe distance between other vehicles, being aware of road conditions, steering clear of road rage and keeping up with vehicle maintenance.
The safest cities are:
1. Fort Collins, Colorado
2. Boise, Idaho
3. Lincoln, Nebraska
4. Chandler, Arizona
5. Huntsville, Alabama
6. Knoxville, Tennessee
7. Springfield, Missouri
8. Reno, Nevada
9. Eugene, Oregon
10. Chattanooga, Tennessee
FOLLOW THIS TOPIC