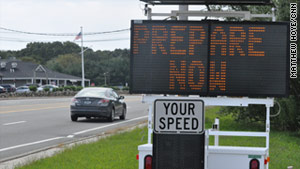 A sign in Narragansett, Rhode Island, warns passing motorists about the approach of Hurricane Irene.
STORY HIGHLIGHTS
Airlines cancel thousands of flights as Hurricane Irene approaches
Carriers are allowing passengers to change plans without fees
Transit systems in New York City, Philadelphia and New Jersey shut down on Saturday
Editor's note: Check out "Open Story: Hurricane Irene," a collaborative effort of CNN and iReport contributors who are documenting the storm as it moves across the Atlantic Ocean. Get the latest updates on @CNNTravel
(CNN) -- Travel conditions aren't pretty this weekend as Hurricane Irene spins up the East Coast.
Airlines have canceled thousands of flights, cruise lines are scrambling to change itineraries, and many trains won't be running in the next few days.
The Port Authority of New York and New Jersey announced Friday night that five airports -- John F. Kennedy, LaGuardia, Newark Liberty, Teterboro and Stewart -- would be closed as of noon Saturday to all arriving international and domestic flights.
"The five airports will remain open for departing flights pending further updates," the agency said, adding that the decision to halt arrivals is being done "to avoid stranding passengers at its airports when the region's mass transit systems suspend service."
Major airlines -- including US Airways, American, United Airlines, Continental Airlines, Delta, JetBlue, Southwest Airlines and AirTran -- have dropped ticket change fees for passengers scheduled to fly to or from many cities along the East Coast this weekend and early next week.
Are you there? Share photos, video, but stay safe
Public transportation is taking a hit: New York City and New Jersey shut down many services at noon on Saturday. Philadelphia planned to close its transit system early Sunday morning.
Greyhound has canceled or delayed a number of routes because of the storm.
Roads are expected to be clogged with people heading away from Irene's path.

Twitter Q&A for Hurricane Irene

U.S. military squares off with Irene

Hurricane Irene's impact on NYC

Charleston mayor worried about surge
Flights canceled
Airports along the East Coast have made preparations for the storm, and airlines are monitoring the weather conditions carefully.
US Airways has canceled close to 2,200 flights between Saturday and Monday, with the bulk of those cancellations on Sunday.
The airline suspended operations Saturday at New York-area airports and will not operate out of the metro area on Sunday, said airline spokesman Todd Lehmacher.
US Airways won't operate Sunday in Philadelphia, the Washington metro area or Boston.
American Airlines has canceled all flights in the Washington area from noon Saturday to noon Sunday, said spokesman Ed Martelle on Friday.
The airline has also canceled all flights at Raleigh-Durham International Airport scheduled for Saturday.
United and Continental airlines canceled 2,300 flights for Saturday and Sunday, the carriers said in a joint statement.
Delta Air Lines has canceled about 2,100 Delta and Delta Connection flights between Saturday and Monday. Delta service was suspended Saturday in Norfolk, Newport News/Williamsburg and Richmond, Virginia. Washington-area flights will operate through Saturday afternoon, according to a Delta statement.
The airline's flights in the New York area; Philadelphia; Boston; Hartford, Connecticut; Providence, Rhode Island; Manchester, New Hampshire; and Portland, Maine, will not operate on Sunday.
JetBlue had canceled almost 900 flights by Friday night ahead of the storm. Most of those are Sunday and Monday flights out of the New York metro area and Boston, spokesman Mateo Lleras said.
AirTran has canceled more than 300 flights through Monday, according to spokeswoman Judy Graham-Weaver.
Southwest has 740 cancellations from Saturday through Monday.
Avoid getting stranded
How might all the cancellations impact air travel in the rest of the country? It depends on how fast the affected airports come back on line Monday, said Michael S. Nolan, an associate professor in charge of the air traffic control program at Purdue University.
The New York area handles a lot of air traffic, but Nolan said airlines will reroute passengers connecting to other airports.
"They don't want people marooned in the metro area," Nolan said.
Tech to keep you safe from hurricanes
Amtrak said Friday evening that none of its trains in the Northwest would be operating Sunday, and service on Saturday would be reduced because of the storm.
If you are planning to travel along the East Coast in the next few days, call your hotel and find out what its policies are in case you need to cancel. Keep on top of what your airline is doing, advised Anne Banas, executive editor at SmarterTravel.
This kind of weather event is not within the airlines' control, so "the only thing you're entitled to in that situation is a refund. So if you're stranded at the airport, you're not necessarily going to get food vouchers or hotel vouchers," Banas said.
Irene affects cruises
The storm has caused changes in sailing dates and itineraries for dozens of cruises in the Northeast, Eastern Caribbean, Bahamas and Bermuda, CruiseCritic.com reported.
Meanwhile, the Bahamas is assessing the impact from the storm.
There's limited damage in major tourism areas in Nassau and Grand Bahama Island, and the region is returning to normal operations, the Bahamas Ministry of Tourism and Aviation said.
Hotels, resorts and attractions throughout the Bahamas are open and accepting arrivals, including Atlantis, which accommodated about 6,000 guests during the storm.
Cruise ports in Nassau and Grand Bahama reopened Thursday evening, and ships are anticipated to resume calls Saturday.
CNN's Agnes Pawlowski, Marnie Hunter and journalist Aaron Brodie contributed to this report.
FOLLOW THIS TOPIC