STORY HIGHLIGHTS
Las Vegas, long a stalwart of straight male culture, is marketing itself as a gay travel destination

Residents say the city has a long way to go before it becomes "gay friendly"

Still, Vegas has many gay-themed offerings, including pool parties and dance clubs
Las Vegas (CNN) -- The drag queen pointed at two men in the front row.
"Are you guys gay?" she said into a microphone, amused.
The response: A middle finger.
"Did you just flip me off?" Christopher Kenney, the Las Vegas drag queen with tall black hair (and taller black heels) said, offended. "You are the tackiest humans alive."
This crowd-host interaction at the start of a recent performance of "Zumanity," a Cirque de Soleil show with overt gay and lesbian themes, pretty much sums up the state of gay Las Vegas at the moment:
The city is trying to come out, but not everyone is ready.
Long a bastion of straight male culture, with its bachelor parties, strip clubs and Sinatra-esque swagger, this desert town has been making deliberate attempts since about 2005 to become a destination for gay and lesbian tourists, and to increase its own gay community.
The main reason for this shift, according to casinos and marketers? Money. Gay and lesbian people tend to travel more and spend more per capita than their straight counterparts, according to a report from Community Marketing Inc.
But there's a cultural component, too. Sin City, the city "where anything goes," wants to welcome people of all kinds -- both as tourists and residents. It has also courted families, women, blacks and Latinos.
A kiss between two men in the Cirque du Soleil show "Zumanity" still shocks crowds in Las Vegas.
More marketing muscle, however, is going toward presenting Vegas as a place where gays and lesbians can be comfortable and have a good time.
One summer magazine ad paid for by the Las Vegas Convention and Visitors Authority shows a conga line of men at an outdoor pool party. Another, for the New York-New York Hotel and Casino, shows a shirtless man in a bed: "Luck isn't always a lady," the caption reads. Two high-heeled women play footsie in another convention bureau ad that says, "Take a break where anything goes."
The visitors bureau spent $700,000 on this ad campaign in fiscal year 2011.
The man behind those ads (as well as the "What Happens in Vegas, Stays in Vegas" slogan) is Billy Vassiliadis, chief executive of the ad firm R&R Partners.
Vassiliadis said the ads, and general cultural trends, have helped Vegas' gay and lesbian community become more visible and more robust.
Vegas, he said, isn't trying to become a "gay city" -- think San Francisco; Provincetown, Massachusetts; or South Beach in Miami -- just a place where gay and lesbian people can feel comfortable. It's "gay friendly," he said.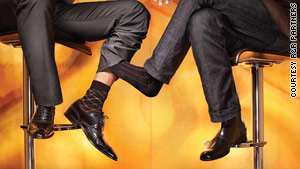 The Las Vegas Convention and Visitors Authority spent $700,000 this year on ads targeting the gay community.
On the surface, these efforts seem to be working.
In 2010, Vegas was the No. 3 U.S. travel destination for gay and lesbian travelers, behind New York and San Francisco, according to a report from the group Community Marketing Inc. The Advocate named Las Vegas the third-gayest city in America this year.
The population of cohabitating gay couples in Nevada increased 87% from 2000 to 2010, to 9,321 couples, according to the census. In Clark County, which includes Las Vegas, same-sex partners account for 1% of households, according to an early analysis of 2010 census data by The Williams Institute at the University of California, Los Angeles. In San Francisco County, by comparison, 3% of households are headed by same-sex couples.
The shift is easy enough to see around the city, too.
At a club called Krave, tucked away behind a construction site in the Planet Hollywood building, there are no showgirls, just men who dance in lavender boxer shorts and high-top sneakers. The pool at the Luxor hotel, which looks like a giant pyramid, hosts a weekly gay-themed party for men in skimpy swimsuits. A DJ blasts Beyonce dance mixes. The Paris hotel performs civil unions for same-sex couples. The Mirage throws "gay nights" at its clubs, including an event called "Closet Sundays." Some casinos have experimented with male "bevertainers," or cocktail waiters. The Wynn is developing a separate concierge service for LGBT-related requests. ("They sit behind pink desks," its designer joked.)
Multiple casino owners also train their employees to avoid gay-related faux pas, like assuming two men or women want separate beds.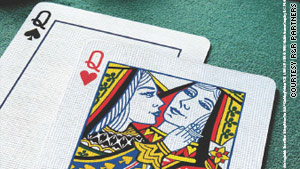 Some ads target gay women, but locals say there are no lesbian-themed bars and few Vegas events cater to them.
"It's the little things," said Steve Friess, a local newspaper columnist and author of the travel book "Gay Vegas." "They're taught to say 'Do you want one bed or two?' -- because maybe they want one bed, maybe they don't."
But while tourists are seeing Vegas' gay friendly side, some out-of-the-closet locals say it is all just a veneer for a city that is often hostile to gay people.
Taking in the strobe-lighted scene at a gay dance club on a recent Saturday night was Adam Hatch, who moved here from Phoenix expecting a cosmopolitan city that would be progressive and gay friendly.
He didn't quite find it.
"It's not as open-minded as everyone thinks," he said.
Earlier this year, Hatch, 25, was walking down the Vegas strip wearing a shirt with a rainbow flag on it, a symbol of gay pride. He caught the eye of some tourists, a group he said is generally less accepting than locals.
"They said, 'We'd really like to beat a f-- up. We're gonna make it a holiday,'" Hatch recalled. Such encounters "happen quite a bit out here, actually," he said.
Vegas is seen as very flamboyant, but it isn't really gay friendly.
--Mike Prevatt
Bouncers at Krave, the gay nightclub right off the Las Vegas Strip, remember the night in 2007 when a man said he was beaten up as he left the venue.
"They were calling us f----ts, queers," Thomas Lahey, who made the accusations, told a local TV news reporter at the time. "When they were kicking me in the face ... they kept saying, 'Do you like that f----t?'"
Other Vegas locals say the city isn't intolerant, just not exceptionally welcoming.
"Vegas is seen as very flamboyant, but it isn't really gay friendly," said Mike Prevatt, a local reporter who is openly gay and who writes about Vegas nightlife.
"Vegas is a heterosexual playground, but it's not a homosexual playground," said Michael Judkins, 33, who is the manager at a country-western gay bar in town, which has two sequined cowboy boots dangling over its two-step dance floor.
In other incidents, tourists are quietly offended by the cultural shift.
Edward Clark, a 35-year-old from Los Angeles, brought his four kids, ages 3 to 13, to the pool at The Luxor during a recent gay-themed party. He left in a huff.
"It shouldn't be like that, you know, in front of the kids," he said, staring in awe at a sea of men playing beach ball and sunbathing in spandex swimsuits.
We need people to come and to make it a gay community.
--Christopher Kenney
"It encourages the kids to think it's normal, which it isn't. Not that I have anything against them personally. ... The world is getting so different."
Jason Dinant, the party's host, said the gay-themed event was only for people age 21 and up and was confined to one of Luxor's two pools. Vegas is finally having the coming-out party it deserves, he said, and it's one that's only going to get bigger and more integrated into the fabric of the city.
"It has always been titties and sin, but somehow us gays took it over," he said.
In a way, Vegas' struggle mirrors what's going on in the rest of the country, said Michael Weaver, senior vice president for marketing at The Wynn and an openly gay man who is credited with bringing about the recent push to bring more gay tourists to the city.
It takes some time for everyone to come around, he said.
Weaver dismissed stories of gay bashers as being outliers.
"I've never had anyone say anything (hateful) to me in Las Vegas -- never, never," he said, adding that he has no qualms about holding hands with his partner in public. "Chicago, New York, Miami -- yeah, I've had people make cat calls at me before. But in Vegas? Never once."
Kenney, the drag queen who was given the middle finger in the recent Vegas show, said he doesn't often encounter anti-gay hecklers here, although he does recall audience members yelling "Oh, hell no!" when two men kiss at the end of "Zumanity."
"We have Middle America in our shows," he said. "You're going to see people in their 80s and young people and bachelorettes, people who may have never seen a gay kiss."
Things are only improving for Vegas' gay population, he said.
"We need people to come and to make it a gay community," he said. "Vegas is one of the entertainment capitals of the world. It is incredible fun, and the more gay people that come and visit -- it will show Las Vegas and the casinos and the bars that this is a city that has a huge gay future. And you're truly not going to have more fun anywhere else. I hope it's going to be a gay mecca one day."
FOLLOW THIS TOPIC