Airline sex scandal delays ad campaign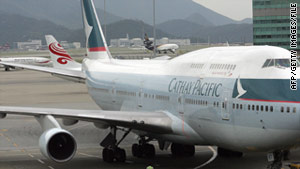 Cathay Pacific has delayed an ad campaign after explicit crew member photos surfaced.
STORY HIGHLIGHTS
Explicit airline crew photos have delayed ad campaign, newspaper reports

The ads focus on airline staffers "going the extra mile"

The airline said the pair shown in the photos are no longer airline employees

(CNN) -- Widely circulated photos of Cathay Pacific crew members apparently engaged in a sex act have postponed the launch of an airline ad campaign.
The slogan: "meet the team who go the extra mile to make you feel special."
The second installment of the international ad campaign focusing on the company's employees was due to launch next month but will be postponed until October 1, said airline spokesperson Jan Agoncillo.
"The original timing doesn't suit us," Agoncillo said.
The photographs, which were widely circulated online last week, show two crew members apparently engaged in oral sex. The airline announced Friday that the two are no longer employees of the airline. Cathay Pacific also said there are no indications that the incidents occurred during flight.
"Let me be crystal clear about one thing: I find any behaviour that recklessly soils the reputation of our company or our team members as totally unacceptable," Cathay Pacific CEO John Slosar said in a statement.
Cathay Pacific has not released the identities of the former employees for legal reasons.