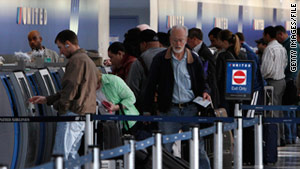 Over the next few days, air travel tax collection will begin again.
STORY HIGHLIGHTS
Many fliers thought they might be entitled to a tax refund
If you were hoping to get some money back, it's not happening
Tax collection doesn't have to begin again until the end of the day Monday
Editor's note: Brett Snyder writes a weekly CNN.com travel column. Snyder is the founder of air travel assistance site Cranky Concierge, and he writes the consumer air travel blog The Cranky Flier.
(CNN) -- As late as this morning, it looked like if you had traveled while the Federal Aviation Administration was shut down, there was a good chance that the government owed you a tax refund.
Those hopes have now been dashed as Congress decided to make the taxes retroactive to when the FAA shut down July 23.
If you were hoping to get some money back, it's not happening.
Tax collection doesn't have to begin again until the end of the day Monday, so buying tickets over the next few days will be a tricky process.
Congress periodically has to renew the authorization of the FAA to do a variety of things, and one of those things is collecting taxes on air travel.
As with everything in Washington, the left and the right tried to sneak in politically charged riders that prevented the FAA reauthorization from moving forward to fund projects such as the NextGen air traffic control overhaul.
Secrets to avoiding flight delays
Until last month, Congress had been simply extending the current authorization for months at a time until something could be worked out. That changed July 23.
When July 22 ended, so did the authorization for the FAA, and that meant it could no longer collect taxes. There was hope that once the debt-ceiling bill was passed, attention would shift to getting the FAA back up and running, but both chambers decided to take the month off.
Then Thursday, congressional leaders reached a deal to resume funding temporarily for the FAA, and President Obama signed the legislation on Friday. But there's a nasty little surprise in there as well if you thought you were getting a refund.
When FAA authorization ended, four taxes on air travel had to be dropped:
• the 7.5% tax on the base airline ticket price
• the domestic segment tax of $3.70 per person per segment (a single takeoff and single landing)
• the international travel facilities tax of $16.30 per person for flights that begin or end in the United States, or $8.20 per person for a flight that begins or ends in Alaska or Hawaii
• the 6.25% tax on the amount paid for transporting property by air
As you can see, this applies to both domestic and international flights on any airline, regardless of where it's based.
So if you bought a round-trip ticket from Jacksonville, Florida, to Los Angeles via Atlanta for $500, here's how the taxes and fees break down:
• Base fare: $425.30
• 7.5% excise tax: $31.90
• Domestic segment tax: $14.80 ($3.70 per flight segment)
• September 11 security fee: $10 ($2.50 per flight segment)
• Passenger facility charges: $18 ($4.50 per departure from each airport)
The IRS and several airlines said they would provide refunds to the passenger; in this case that would have been $46.70 for the excise and segment taxes if this ticket was purchased before July 23 for travel during the FAA shutdown.
But Congress decided to sneak in a retroactive clause in the new legislation that will allow the feds to keep the money that was collected for travel during that period.
On the other hand, if you bought a ticket beginning July 23, then you weren't charged those taxes, and neither you nor the airline will be asked to pay them, either.
Summer travel: Watch out for amateurs
The Internal Revenue Service had issued guidelines on how exactly to go about getting your refund, but it said it would offer further clarification down the road.
Now with this legislation, there is no clarification needed. If you paid taxes, you aren't getting them back. If you didn't pay them, you won't have to cough up any more money.
Over the next few days, tax collection will again begin, and the airlines will have to decide whether to lower fares to the previous levels before the tax expired. This won't happen right away, and there could be some back and forth before fares settle down.
FOLLOW THIS TOPIC