Brothers accused of beating airline pilot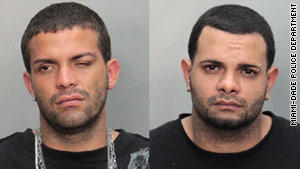 Jonathan Baez, left, and his brother Luis Baez have been charged with aggravated battery.
STORY HIGHLIGHTS
Incident began on board an American Airlines flight departing from Miami
Pilot returned to the gate after passenger who wasn't wearing his seat belt was unresponsive
After the man was asked to leave, he and his brother allegedly became belligerent
Police: The brothers chased and beat the pilot
(CNN) -- Two brothers have been arrested and charged with aggravated battery after allegedly attacking and chasing a pilot at Miami International Airport.
The bizarre incident began on board an American Airlines flight bound for San Francisco on Wednesday evening.
As the plane was taxiing out, a flight attendant noticed that Jonathan Baez was sleeping and not wearing his seat belt. She tried to wake him up, but he was "unresponsive and appeared to be intoxicated or on narcotics," according to the Miami-Dade Police Department arrest report.
The pilot then returned the plane to the gate and tried several times to wake Baez. When the passenger awoke, he was told he couldn't fly in his condition and was asked to leave the plane, police said.
That's when his brother, Luis Baez, also decided to leave.
As both men were walking toward the plane door, they "became extremely belligerent," and Luis Baez -- who was born in Puerto Rico -- told the pilot, "When you fly to San Juan, I will have you killed," according to the arrest report.
Shortly after leaving the plane, Jonathan Baez came back on board and punched the pilot in the face, causing a large bruise and blurred vision in his left eye, the arrest report says.
He also struck a flight attendant on the shoulder when she tried to intervene, police said.
But the ordeal wasn't over yet.
When the pilot escorted the brothers off the plane, they jumped him and started punching him, and then chased him into the terminal, according to the arrest report.
Other crew members and passengers came to the pilot's defense and subdued the brothers until police arrested them.
The pilot told police that he was concerned Luis Baez would follow through on his threats to kill him and said he feared for his life.
Jonathan Baez's bond has been set at $9,000, while Luis Baez is $12,500, according to The Miami Herald.
The men remain in the Miami-Dade County Jail, CNN affiliate WPLG reported.
FOLLOW THIS TOPIC