STORY HIGHLIGHTS
Steamed seafood is a crowd favorite at the The Crab Shack on Georgia's Tybee Island

Boatloads of fresh crabs are served at Cantler's Riverside Inn in Annapolis, Maryland

Clam chowder and craft beers create fans of The Tides Tavern in Gig Harbor, Washington
(Coastal Living) -- It's Coastal Living's annual guide to the top eateries where food is fried, broiled, grilled or otherwise slapped on butcher paper for your finger-licking, crab-cracking, French fry-munching pleasure. This year, winners (and finalists) were chosen by readers.
Alabama
LuLu's at Homeport Marina, Gulf Shores
You'll love the all-ages appeal of this sandy, tropical paradise operated by Lucy Buffett, singer Jimmy's sister. The Southern-style menu includes fried green tomatoes and a variety of seafood dishes, and musicians entertain every day; 251/967- 5858 or lulusathomeport.com.
Tasty Contenders

Doc's Seafood Shack & Oyster Bar, Orange Beach -- This is where the locals go. Readers adore the fresh oysters and make-your-own cocktail sauce; 251/981-6999.
Bayley's Seafood Restaurant, Theodore -- In this metal-roofed brick building, they're turning out great fried seafood and their signature West Indies salad (crabmeat with oil, vinegar and chopped onion) invented here in 1947; 251/973-1572.
Coastal Living: 10 top spots to snorkel
Alaska
Sandbar and Grill, Juneau
It's all about the local fish in this no-frills, authentic dive atmosphere. Readers say the halibut burger is mouthwatering, and the fresh halibut fish-and-chips is tops. (Hungry? Go for the eight-piece "Big Boy" size); 907/789-8400.
Tasty Contenders
The Hangar on the Wharf Pub & Grill, Juneau -- Overlooking the seaplane harbor, The Hangar has an extensive menu, from king crab hand rolls to halibut tacos. Bonus: the 100 available beers -- 20 on tap; 907/586-5018 or hangaronthewharf.com.
The Bamboo Room Restaurant, Haines -- This place is justly famous for fist-size chunks of locally caught halibut in the fish-and-chips plate; 907/766-2800 or bamboopioneer.net.
Coastal Living: 9 coastal wonders to see now
California
The Crab Cooker, Newport Beach

Citing "consistently great food," readers back up the menu's promise of the world's best clam chowder. Scallop-and-bacon skewers and hot king crab claws are full of flavor, too; 949/673-0100 or thecrabcooker.com.
Tasty Contenders

Swan Oyster Depot, San Francisco -- This tiny place with a long marble counter -- grab a seat to watch the oyster-shucking action! -- serves a variety of fresh seafood. The energetic staff liven up the scene with witty banter; 415/673-1101.
Splash Café, Pismo Beach -- Steps from the shore with a kitschy-cute neon sign, Splash makes waves with its steamed clams and creamy chowder in a bread bowl; 805/773-4653 or splashcafe.com.
Connecticut
Abbott's Lobster in the Rough, Noank
This classic summer-only shack dishes out lobster rolls hot (on a burger bun) or cold (on a long bun). Picnic tables along the rocky waterfront offer views of Long Island Sound and the Mystic River; 860/536-7719 or abbotts-lobster.com.
Tasty Contenders
Lenny & Joe's Fish Tale, Westbrook -- Fried seafood and clear-broth clam chowder are favorites, plus readers rave that it serves "the best lobster rolls in the whole wide world;" 860/669-0767 or ljfishtale.com.
The Place Restaurant, Guilford -- Take a seat outdoors on a stump while shellfish, shrimp, bluefish, lobster and corn (dunked in butter before being served) cook on an immense grill. BYO side dishes and alcohol; 203/453-9276 or theplaceguilford.com.
Delaware
Fenwick Crab House, Fenwick Island
This family-owned restaurant maintains a relaxed, rustic spirit and serves huge portions of seafood, such as Alaskan snow crab legs, in metal buckets. The meaty backfin crab cakes are famous; 302/539-2500 or fenwickcrabhouse.com.
Tasty Contenders
Mickey's Family Crab House, Bethany Beach -- Mickey's has offered classic fried fare for 20 years. Our readers can't resist the all-you-can-eat blue crabs; 302/539-5384 or mickeysfamilycrabhouse.com.
Ed's Chicken & Crabs, Dewey Beach -- "Chicken Ed's" enjoys a cult following for its fresh steamed blue crabs dusted with Old Bay seasoning; 302/227-9484.
Coastal Living: Vacation for less!
Florida
Dewey Destin Seafood Restaurant & Market, Destin
Proprietor Dewey Destin's great-great-grandfather founded the town, but what readers can't stop talking about is the fresh seafood. Try the catch of the day fried, grilled or blackened, and watch a sunset over the water; 850/ 837-7575 or destinseafood.com.
Tasty Contenders
High Tides at Snack Jack, Flagler Beach -- This casual surfer hangout has roots in the 1950s, but some very 21st-century menu items (a fish Reuben and a Bloody Mary made with sake); 386/ 439-3344 or snackjacks.com.
Frenchy's Rockaway Grill, Clearwater Beach -- Frenchy's is a mini empire of four restaurants situated near each other. The Rockaway Grill (your pick) is known for fish tacos, she-crab soup and what one reader claims is the best grouper sandwich on the west coast of Florida; 727/446- 4844 or frenchysonline.com.
Georgia

The Crab Shack, Tybee Island

Readers get positively giddy about this place, with its screened-in dining room and deck overlooking the water. Steamed seafood draws the most applause, but the seafood platter is a close second, and large enough to share with the whole table; 912/786-9857 or thecrabshack.com.
Tasty Contenders

The Oyster Shak, Brunswick -- Fresh oysters anchor the extensive, made-from-scratch seafood menu. Readers also recommend grabbing a table outside for the "awesome" steamed shrimp and po'boys; 912/265-2850 or oystershak.com.
Barbara Jean's, St. Simons Island -- What's now a small, family-run chain began here. The crab cakes get star billing, along with the bread, but save room for the Chocolate Stuff dessert, topped with homemade whipped cream; 912/634-6500 or barbarajeans.com.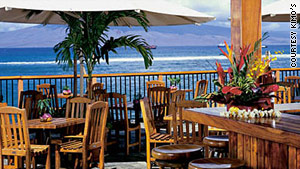 Sunsets over the water are part of the experience at Kimo's, Lahaina Town on Maui.
Hawaii
Kimo's, Lahaina Town, Maui
Since 1977, this spot has been known for its killer views of the sunset over the water and its laid-back atmosphere. The grilled fish tacos topped with a tropical salsa and the hula pie made with macadamia nut ice cream are reader favorites; 808/661-4811 or kimosmaui.com.
Tasty Contenders
Romy's Kahuku Prawns & Shrimp, Kahuku, Oahu -- One of several shrimp shacks along Oahu's North Shore, Romy's gets its prawns and shrimp -- served fried in won ton wrappers, sauteed in garlic or sweet and spicy -- from its own aquaculture farm; 808/232-2202 or romyskahukuprawns.org.
La Mariana Sailing Club, Honolulu -- Tiki-bar ambience, a mean mahi mahi burger, and signature mai tais bring locals to this kitschy Oahu hideaway; 808/848-2800 or lamarianasailingclub.com.
Coastal Living: Top 10 secrets for the best travel deals
Illinois
Bob Chinn's Crab House, Wheeling
This roomy establishment in the Chicago suburbs offers "jet fresh" seafood from around the world, including Australian lobster tail and large portions of crab. Plus, it's known for having the best service in town; 847/520-3633 or bobchinns.com.
Tasty Contenders
Calumet Fisheries, Chicago -- A red-roofed takeout shed on the Calumet River turns out excellent smoked fish and fresh seafood; 773/933-9855 or calumetfisheries.com.
Half Shell, Chicago -- With a casual bistro vibe and outdoor seating, Half Shell serves king crab and fried catfish that get rave reviews; 773/549-1773 or halfshellchicago.com.
Louisiana
Acme Oyster House, Metairie
Citing very good gumbos and alternative seafood selections, readers admit it's tough not to fill up on oysters when dining at the Acme. This suburban location of the legendary New Orleans oyster house attracted more votes than the original French Quarter spot; 504/309- 4056 or acmeoyster.com.
Tasty Contenders
Middendorf's, Akers -- For more than 75 years, patrons have enjoyed crispy fried catfish, plus spicy gumbo, fried shrimp and fried oysters; 985/386-6666 or middendorfsrestaurant.com.
Tracey's, New Orleans -- The former staff and menu of famed sandwich spot Parasol's have moved around the corner and now purvey the same great fried shrimp, oyster, catfish and soft-shell crab po'boys here; 504/897-5413 or traceysnola.com.
Maine
The Lobster Shack at Two Lights, Cape Elizabeth
Since 1969, The Lobster Shack has served creamy chowder and lobster rolls in a scenic ocean-side setting. The outdoor picnic tables sit in the shadow of a lighthouse, and readers like the location as much as the food; 207/799-1677 or lobstershacktwolights.com.
Tasty Contenders
Red's Eats, Wiscasset -- One reader calls Red's the "holy grail" of lobster rolls. That enormous classic is served up bursting with fresh lobster at this little red-and-white stand; 207/882-6128.
Bet's Famous Fish Fry, Boothbay Harbor -- "Life's a fish and then you fry," reads a sign on the side of this small fish-and-chips truck, which also dishes up ridiculously stacked-high fish sandwiches; hollyeats.com/BetsFishFry.htm.
Maryland
Cantler's Riverside Inn, Annapolis
Boats unload fresh crabs right at the Cantler's waterfront restaurant and crab house. The atmosphere is totally casual, but the menu is more refined, with stuffed rockfish, grilled lobster and "drunk'n" mussels simmered in white wine; 410/757-1311 or cantlers.com.
Tasty Contenders
Captain Billy's Crabhouse, Newburg -- Readers come here for great crabs, which they tell us they love eating right off the rolled-out butcher paper on the table; 301/932-4323 or captbillys.com.
Courtney's Restaurant & Seafood, Ridge -- In this off-the-radar spot for fresh crab cakes at the mouth of the Potomac River, you can't go wrong with the grilled or fried catch of the day; 301/872-4403.
Massachusetts
Woodman's of Essex, Essex
This self-proclaimed "Yankee tradition" since 1914 claims to have invented the fried clam and still offers "Chubby's Original" fried clams, which, according to at least one reader, are "the bomb." The clam cakes and clam chowder have lots of admirers, too. Readers love the view from the rooftop deck; 800/649-1773 or woodmans.com.
Tasty Contenders
Clam Box of Ipswich, Ipswich -- The fish, scallops and oysters taste as good as the fried clams and chowder. Look for a building shaped like a clam box (the traditional to-go container for fried clams); 978/356-9707 or ipswichma.com/clambox.
Arnold's Lobster & Clam Bar, Eastham -- The long lines move quickly, and the fried seafood (especially the clams) and onion rings (2,000 pounds sold every week!) are worth the wait; 508/255- 2575 or arnoldsrestaurant.com.
Michigan

Keyhole Bar & Grill, Mackinaw City
Readers love the fried whitefish and appreciate the beer-or whiskey attitude (no fancy cocktails here); 231/436-7911.
Tasty Contenders
Dockers Fish House & Lounge, Muskegon -- It's slightly more upscale than our typical pick, but Dockers serves a Famous Margarita at the Tiki Bar that's true dive spirit in a glass; 231/755-0400 or dockersfishhouse.com.
Bortell's Landing, Ludington -- Order the delicious smoked fish, find a seat at Summit Park across the street, and watch the waves roll in on Lake Michigan's shore; 231/843-3337.
Minnesota
Betty's Pies, Two Harbors
This 1956 fish-stand-turned-cafe is known for its fun, diner-style atmosphere and its fantastic pies. Locally caught trout and walleye constitute worthy preludes to dessert; 218/834-3367 or bettyspies.com.
Tasty Contenders
Crabby Bill's in Canal Park, Duluth -- An old boat is now a takeout spot with fresh fish and addictive mini doughnuts; e-mail crabbyinthepark@yahoo.com.
Dockside Fish Market, Grand Marais -- Dockside specializes in fresh and smoked local fish. The vibe is kicked-back and casual, but menu items such as the Lake Superior gold caviar and gourmet desserts can make it feel almost like fine dining; 218/387- 2906 or docksidefishmarket.com.
Mississippi
It's a Tie!
Lil' Ray's, Long Beach
Readers tell us it's impossible to pick a favorite treat, but Lil' Ray's serves boiled crawfish cooked to perfection, plus homemade bread pudding and New Orleans--style po'boys. Part of a local family chain, the restaurant has wooden indoor picnic benches laminated with Mississippi maps -- perfect for planning your visit to other dives; 228/822-2400.
Rickey's Bar & Grill, Bay St. Louis
The colorfully decorated Rickey's reopened in the Zuppardo's Bay Plaza shopping center six months after Hurricane Katrina destroyed the original building. Luckily, beloved menu items such as the seafood muffaletta also reappeared; 228/463-0540 or rickeysbarandgrill.net.
Tasty Contender
Huck's Cove Waterfront Grill and Bar, Gautier -- A funky, mostly outdoor waterside bar and grill famed for burgers, it also serves yummy seafood po'boys; 228/497-4309 or huckscove.com.
New Hampshire
Newick's Lobster House, Dover
This enormous waterfront establishment serves your choice of seafood -- baked, broiled, steamed, stuffed, boiled or fried -- plus excellent lobster stew. On the side: lovely views of Great Bay; 800/533-9027 or newicks.com.
Tasty Contenders
Markey's Lobster Pool, Seabrook -- Start with the buttery, milky chowder and then proceed to the fresh steamed mussels or the overstuffed lobster roll. Readers recommend dining outdoors by the creek; 603/474- 2851 or markeyslobsterpool.com.
Petey's Summertime Seafood and Bar, Rye -- Despite the "summer" part of the name, Petey's now offers its lobster rolls, sea scallops and fried clams year-round; 603/433-1937 or peteys.com.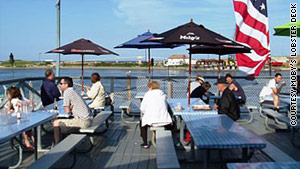 Moby's Lobster Deck in Highlands is a top pick for seafood in New Jersey.
New Jersey
Allen's Clam Bar, New Gretna
No frills, no alcohol (though you can bring your own) -- just inexpensive, delicious, high-quality seafood served here; 609/296-4106.
Tasty Contenders
Moby's Lobster Deck, Highlands -- Enjoy your steamed clams, lobsters and soft-shell crabs under the shade of an umbrella on the waterfront outdoor deck; 732/872-1245 or bahrslanding.com/ molode.html.
Keyport Fishery, Keyport -- For almost 75 years, Keyport has maintained a market and restaurant on Keyport Harbor. Everything from haddock sandwiches to the calamari platter is super fresh; 732/264- 9723 or keyportfishery.net.
New York
The Clam Bar at Napeague, Amagansett
You may mingle with Hamptons celebrities, but everyone is here for the same reason: amazing clams. Readers say the daily specials, such as local tomatoes stuffed with lobster salad, are the real stars; 631/267-6348 or clambaronline.com.
Tasty Contenders
Luke's Lobster, Manhattan -- Former lobsterman Luke Holden gets lobster from his dad's sustainable-seafood company in Maine, and serves it up deliciously at four New York City locations; 212/387- 8487 or lukeslobster.com.
Johnny's Reef Restaurant, Bronx -- At this water-view treasure on City Island, individual cooking stations offer "anything your seafood-loving heart desires," one reader says. Try the fried lobster tails; 718/885-2086 or johnnysreefrestaurant.com.
North Carolina
Tortugas' Lie, Nags Head
With its island atmosphere, large libations and epicurean options (grilled yellowfin tuna with garlic pesto) along with the standard fried favorites, this aqua-hued restaurant is more than one reader's "favorite place in the world;" 252/441- 7299 or tortugaslie.com.
Tasty Contenders
Calabash Seafood Hut, Calabash -- It's all about the oysters, oyster stew and fresh-caught Gulf Stream fish; 910/579-6723.
Holden Beach Provision Company, Holden Beach -- Readers revel in afternoons at Holden Beach, eating shrimp, drinking cold beer, and watching the world go by; 910/842- 7205 or provisioncompany.com.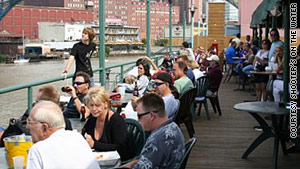 Singles can enjoy seafood and mingling on the waterfront deck at Shooters on the Water in Cleveland.
Ohio
Shooters on the Water, Cleveland
A mix of fresh salads, grilled seafood skewers and veggie burgers balances out the crispy walleye and battered perch on the exhaustive menu. A rollicking singles scene buzzes around the bar on the large waterfront outdoor deck, where you can also watch diners arrive by boat; 216/861- 6900 or shootersflats.com.
Tasty Contenders
Jolly Roger Seafood Restaurant, Port Clinton -- Locals line up for perfectly fried perch and walleye at this modest place. Bonus: If you've caught any walleye that day, the kitchen will fry it up for you; 419/732-3382.
New Sandusky Fish Company, Sandusky -- Go for the huge fried-fish sandwiches (walleye, perch or catfish) smothered in tartar sauce; 419/621-8263.
Oregon
Mo's Restaurant, Newport
This is the original dive in an Oregon chain built on fresh, creamy, New England--style chowder topped with bacon. The peanut butter cream pie is also a signature recipe and readers' favorite; 541/265-7512 or moschowder.com.
Tasty Contenders
The Hungry Clam, Brookings Harbor -- Outdoor seating allows you to watch the boats at the Port of Brookings Harbor. The chowder (served in a bread bowl) and fish-and-chips are among the favorites; 541/469-2526.
Pacific Seafood, Bay City -- Eat oysters any way you like 'em and watch the oyster processing operation through big windows; 503/377-2323 or pacificseafood.com.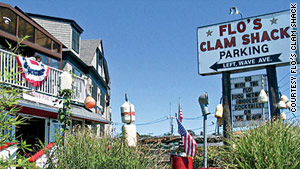 Flo's Clam Shack is a seafood favorite in Portsmouth, Rhode Island.
Rhode Island
Flo's Clam Shack, Portsmouth
At this "super shacky" Portsmouth original, readers recommend taking your order across the street to picnic on the seawall or the beach. The whole-belly clams are lightly battered and "fried to perfection;" flosclamshack.net.
Tasty Contenders
Aunt Carrie's, Narragansett -- At this 1920-vintage institution, The Rhode Island Shore Dinner -- clam chowder, clam cakes, steamed clams, fish-and chips, a whole lobster and homemade dessert -- is about as authentic as it gets; 401/783-7930 or auntcarriesri.com.
Blount Clam Shack, Warren -- Even though it's a clam shack with clam cakes and chowder, it's also known for its giant 9-inch lobster roll; 401/245-3210 or blountfinefoods.com/clam-shack.
South Carolina
The Sea Shack, Hilton Head Island
Readers love the fried seafood, delicious Southern sides and inexpensive prices. Don't leave without tasting the excellent, creamy chowder; 843/785-2464 or seashackhhi.com.
Tasty Contenders
Bowens Island Restaurant, Charleston -- This legendary wreck of a place serves delicious fried shrimp and (in season) roasted oysters; 843/795-2757 or bowensislandrestaurant.com.
Hudson's Seafood House on the Docks, Hilton Head Island -- The restaurant's fishing fleet brings in oysters and crabs for outdoor waterside dining. Readers love the hushpuppies and she-crab soup; 843/681-2772 or hudsonsonthedocks.com.
Texas
It's a Tie!
Snoopy's Pier, Corpus Christi
Readers crow about this family-friendly restaurant's fried seafood. Look for a bright blue building under the bridge to Padre Island; 361/949-8815 or snoopyspier.com.
Topwater Grill, San Leon
Topwater has been described by one reader as "mystical," and another says she wants to live here. The atmosphere is friendly, and the menu includes fish taco platters, an oyster bar,\ and broiled or fried seafood; 281/339-1232 or topwatergrill.com.
Tasty Contender
The Boiling Pot, Rockport -- Mounds of boiled seafood get dumped on your table -- you'll definitely need the bib; 361/729-6972 or theboilingpotonline.com.
Virginia
Big Sam's Inlet Cafe & Raw Bar, Virginia Beach
This small spot on Rudee Inlet is known for meaty crab cakes. Readers tout the "fresh, fresh seafood" and friendly staff; 757/ 428-4858 or bigsamsrawbar.com.
Tasty Contenders
KC's Crabs & Cues, Kilmarnock -- Steamed crabs, great prices and lots of pool tables fuel friendly competition in this antiques-store- turned-dive; 804/435-7665.
Baja Cantina, Virginia Beach -- Readers dig Baja's moderate prices for tacos overstuffed with fish, scallops, lobster or shrimp served with house-made hot sauce; 757/437-2920.
Washington
The Tides Tavern, Gig Harbor
The clam chowder and extensive list of craft beers have lots of fans, and an outdoor deck showcases the harbor and the surrounding mountains. But readers insist: You must try the Alaskan halibut fish-and-chips; 253/858-3982 or tidestavern.com.
Tasty Contenders
The One Eyed Crab, Westport -- Eat at the marina overlooking the very same fishing boats that brought the Dungeness crab, salmon, halibut and tuna to your plate; 360/268-0891.
Toby's Tavern, Coupeville -- This seafood pub offers steamed mussels pulled from the water just outside the window; 360/678-4222 or tobysuds.com.
Wisconsin
Port Sandy Bay, Two Rivers
Known for large, made-from-scratch pizzas, Port Sandy Bay also impresses readers with fish battered in Honey Weiss beer and evening seafood specials on Wednesdays and Fridays; 920/793-2345.
Tasty Contenders
Newport Shores, Port Washington -- A daily fish fry (readers love the beer batter), soup and homemade desserts are featured here, with views of the marina and Lake Michigan; 262/284-6838.
St. Paul Fish Company, Milwaukee -- This fish market has gradually become a bustling restaurant, with an inexpensive fresh seafood menu including two for-one oyster specials on Thursday evenings; 414/220-8383 or stpaulfish.com.
Escape to the Coast! Sign up for our newsletter filled with coastal style and top travel destinations.
© Coastal Living, 2011