STORY HIGHLIGHTS
CNN takes you to five lodges you can reach only by plane

Fly-in lodges are designed for travelers seeking a remote destination

Enjoying the wilderness doesn't mean you have to "rough it" at these resorts

(CNN) -- Say goodbye to civilization and hello to a remote pocket of the world at these five resorts.
The sky's the limit on how you can unwind and relax at lodges you can reach only by plane.
Iniakuk Lake Wilderness Lodge
Enjoying the wilderness doesn't mean roughing it at Iniakuk Lake Wilderness Lodge in Alaska's Far North.
This upscale retreat, 60 miles north of the Arctic Circle, offers guided activities from fishing and wildlife viewing to dog sledding and float trips. Private floatplanes take guests and guides to explore the Alaskan bush.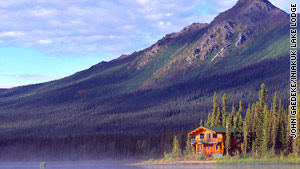 Iniakuk Lake Wilderness Lodge is 60 miles north of the Arctic Circle.
Stay in the cozy main lodge or opt for a secluded cabin inside Gates of the Arctic National Park. After a day of activities, fill up on family-style meals featuring local catch and ingredients.
The resort offers opportunities to relax along Iniakuk Lake and make some new friends, too.
"Many guests arrive as clients but leave as friends because we talk during mealtimes, share stories and worldviews, and they feel they have visited a home rather than just a lodge," resort owner John Gaedeke said.
Daily rates start at $1,495 per person, including round-trip airfare from Fairbanks to the lodge, based on a minimum of two people.
North Haven Resort
Experience trophy fishing at this five-star resort nestled on a secluded island on Utik Lake in northern Manitoba.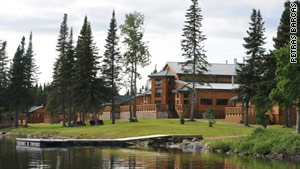 There are no roads within 100 miles of North Haven Resort.
Guides with North Haven Resort promise to send you to the best fishing spots for the catch you're after, and the resort provides all the gear you need. Giant northern pike and walleye are some of the most popular catches during these excursions.
Cap off your day with a four-course dinner and a trip to the resort's spa, which features a lakefront hot tub, fitness center, sauna and a full-time masseuse.
You'll feel you're truly getting away from it all on this trip, as there are no roads within 100 miles of the property.
Guests are responsible for their own transportation to Winnipeg International Airport. From there, North Haven Resort offers guests a private flight that leaves twice a week at 6 a.m. (Call ahead for specific days.) The 1½-hour flight lands on North Star Resort's private airstrip, where guests transfer to a floatplane for a 25-minute flight to the resort.
A four-day package starts at $4,350 per person. Longer stays are also available.
Adaaran Select Meedhupparu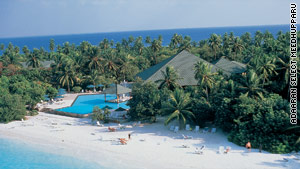 Adaaran Select Meedhupparu is a five-star resort in the Maldives.
Fly to a remote tropical island for a lavish getaway.
The five-star Adaaran Select Meedhupparu resort in the Maldives is nestled on an island surrounded by white beaches, clear emerald waters, coral reefs, lush tropical plants and trees.
Guests sleep in elegant villas either above the water or near the beach.
Visitors can spend their days in solitude, bask in a spa treatment or seek a faster pace with activities like water skiing, scuba diving and wind surfing.
For dinner, sample fresh seafood at one of the resort's restaurants.
Rooms start around $240 (U.S.) per night, and the round-trip seaplane return transfer is $326 (U.S.) a person. Adaaran Select Meedhupparu is a 45-minute seaplane ride from Male International Airport.
Nestor Falls Fly-In Outposts
More than 80% of visitors are repeat customers at Nestor Falls Fly-In Outposts in Ontario, Canada, according to the resort's owners.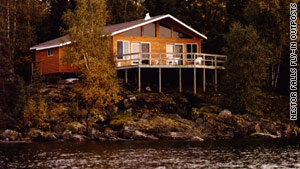 Guests can pick from 12 cabins, all reachable only by plane.
Dave and Michelle Beaushene established the retreat more than 25 years ago along Ontario's Red Lake fishing area.
Reachable only by plane, each of the resort's 12 cabins is different and so remote that in many cases, you'll be the only one on the water.
"We tell our guests not only are you renting your own cabin, you are essentially renting your own lake, because there are so few people on the water," Dave Beaushene said.
Your adventure begins in Nestor Falls, Ontario, (an hour's drive north of the U.S.-Canadian border), where pilots fly you to your private cabin.
The cost for this experience, including airfare from Nestor Falls, starts at $1,195 per person for a four-day package.
Cat Island Lodge
Unspoiled views of the northern lights are among the highlights at Cat Island Lodge in Northwestern Ontario.
Guests have the option of sleeping in a log cabin or the rustic lodge at this fly-in resort on the shore of Trout Lake.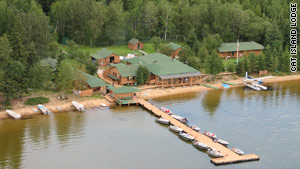 Catch views of the northern lights at Cat Island Lodge.
A typical day at Cat Island begins with a hearty breakfast in the dining room, followed by a day of fishing.
After a day on the water, share a family-style dinner -- often featuring a fresh catch of the day -- with other guests.
Packages start at $999 a person for a three-day visit and go up from there. This price includes your round-trip float plane airfare from either Ear Falls, Ontario, or Red Lake Airport to the resort.
FOLLOW THIS TOPIC