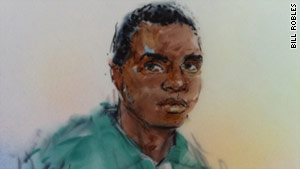 Olajide Oluwaseun Noibi, 24, could get a maximum 15-year prison term.
STORY HIGHLIGHTS
Olajide Oluwaseun Noibi is accused of breaching security at airports in New York and L.A.
Authorities say he traveled on a cross-country flight without a boarding pass or ID
The suspect's defender has said Noibi is embarrassed by the incidents
Los Angeles (CNN) -- A man being held without bond was indicted Friday on charges he stowed away aboard a cross-country flight and later tried to do it again, federal authorities said.
Olajide Oluwaseun Noibi, 24, could get a maximum 15-year prison term if convicted on two federal charges, according to the U.S. Attorney's Office in Los Angeles.
His arraignment is set for July 18.
Noibi allegedly got past security at John F. Kennedy International Airport and boarded a June 23 Virgin America flight to Los Angeles without a valid boarding pass or identification.
While authorities have said they do not have any indication of a terrorism threat related to the case, it has raised questions about the quality of the airport's security as well as Noibi's intentions.
Noibi was arrested June 29 by an FBI agent at a Delta departure gate at Los Angeles International Airport, where Noibi arrived to apparently board another flight -- again, without any proper documentation or a ticket.
Noibi later told authorities that he'd been in the Los Angeles area trying to recruit people for his software company, one that a website indicated was based in Nigeria.
While he has family members in Michigan and Georgia, the suspect doesn't have any known ties to southern California. The prosecution contended at a hearing July 1 that Noibi is a "serious flight risk," adding that he planned to return to his native Nigeria.
His public defender, Carl Gunn, said his client comes from a respectable family and has been "doubly, triply, quadruply embarrassed" by the ordeal.
U.S. Magistrate Judge Michael Wilner expressed concern that Noibi is an adept thief who has proven able to obtain other people's boarding passes and breached security at two major airports.
A U.S. citizen who was born in Nigeria, Noibi has a history of allegedly skipping out on travel fares: In January 2008, he was arrested by transit police aboard an Illinois commuter rail train for boarding a train without paying his $4.70 fare, according to an arrest report from the Chicago Police Department.
FBI spokeswoman Laura Eimiller recently said, "We are investigating his motivation, and whether it was anything beyond not wanting to pay for a ticket."
Transportation Security Administration spokesman Greg Soule said that Noibi went through "the same physical screening" as any other passenger at Kennedy airport. Another TSA statement, issued the next day, said an officer failed to properly determine that Noibi "was traveling with improper travel documents."
The crew on the Virgin America flight didn't become aware of Noibi's presence on June 23 until two passengers complained about his odor, Eimiller said. The 24-year-old was sitting in seat 3A, which was supposed to be empty, and was not on the passenger manifest, according to an FBI affidavit.
Pressed by a flight attendant, Noibi did eventually produce a boarding pass. But the man whose name was on that pass said his boarding pass disappeared from his back pocket on June 22, while he was riding the subway to the airport, according to the FBI affidavit.
Noibi told the Virgin America crew member that his U.S. passport had been stolen and his Nigerian passport was at home, FBI Special Agent Kevin Hogg wrote. He produced an identification card with his full name and photo from the University of Michigan, where a school spokeswoman said he'd studied from 2004 to 2006.
After the pilot confirmed Noibi shouldn't be on the flight, the crew kept him "under surveillance, but at no time felt there was any threat," Virgin America said in its statement. Noibi slept for most of the roughly 2,500-mile flight, the airline said.
Hogg wrote in the FBI affidavit that Noibi claimed he'd been told he could go to the Delta gate in Los Angeles on June 29, despite having shown a "portion of a green boarding pass" that was for the previous day. The FBI agent said Noibi eventually admitted that he had not paid for his Virgin America ticket to Los Angeles, according to the affidavit.
Authorities found Noibi had two boarding passes in his pocket and more than 10 in his two bags -- none of them in his own name -- the affidavit said. Eimiller said the FBI hadn't determined how he got the boarding passes.
FOLLOW THIS TOPIC