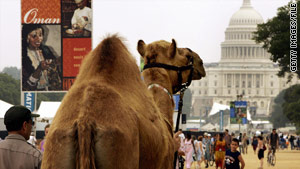 In the nation's capital, there will be fireworks mixed with the global demonstrations of the Smithsonian Folklife Festival.
STORY HIGHLIGHTS
Festivals in Washington and Boston will showcase history and cultures at home and abroad

Lesser-known national parks offer outdoor adventures without the massive crowds

Amelia Island, Florida, is a peaceful getaway without the heat of South Florida

Editor's note: Eileen Ogintz is a nationally syndicated family travel columnist. She is the author of Taking the Kids family travel guides, now available as e-books.
(CNN) -- Which party are you going to?
We're talking about the nation's birthday parties, of course, across the country on July 4th weekend where everyone will be slurping ice cream cones, waving flags and having a good time -- hopefully. If you want to do more than attend -- or host -- a backyard BBQ, you certainly have your pick.
Np worries either if you haven't booked ahead. This seems to be the season of last-minute getaways, no matter where you want to go or what you want to do. You are likely to get a good deal too. And if you aren't happy with the rate, don't be shy about asking for a better one. (Look for packages that include free nights, resort credits and even a gas card.)
Here are five picks guaranteed to please without busting the budget:
MEET BEN FRANKLIN AND BETSY ROSS in Philadelphia, where you'll find costumed "History Makers" and storytellers' stations all around what's billed as America's most historic mile, thanks to the non-profit Historic Philadelphia.
It won't cost you anything to have the kids join the Continental Army or to hobnob with the costumed guides or hear their stories. Independence National Historical Park is of course where you can see the Liberty Bell and Independence Hall, among other places.
And this summer, as the nation commemorates the 150th anniversary of the start of the Civil War, there are also Civil War era stories (hear the tale of Henry "Box" Brown who literally mailed himself to freedom in 1849 from Virginia to Pennsylvania in a big box) and special exhibits -- like Rally 'Round the Flag about the Civil War color bearers and the flags they carried at the Betsy Ross House. (Visit July Fourth weekend and there will be an entire weekend of Civil War activities as well as the city's Wawa Welcome America! festival.)
COMMUNE WITH NATURE in a national park where you can take a hike, camp out or simply get moving. Let's Move Outside Junior Ranger, which is part of First Lady Michelle Obama's nationwide Let's Move campaign to end childhood obesity, encourages kids and their families to engage in outdoor activity that gets hearts pumping and bodies moving.
Whether your prefer a 20-mile backcountry hike in Grand Teton National Park, a stroll around the rim of the Grand Canyon, Valley Forge or touring a historic city site you are guaranteed to have a memorable 4th. Consider a less-visited national park, like Mesa Verde in Colorado, where you can climb around the ancient cliff dwellings or Lassen Volcanic National Park in California with steaming hot springs and an active volcano or Glacier National Park in Montana with glacial lakes, hundreds of miles of hiking trails and some 200 waterfalls.
HIT THE BEACH -- someplace you haven't been. Try Amelia Island, Florida, for example -- 13 miles long, 2 miles wide, population just 12,000. It's different than anywhere else, locals promise, and long a favorite with vacationing families from Georgia and South Florida. Other families discovered Amelia Island last summer in the wake of the Gulf oil spill. Direct flights also make it a different kind of Florida getaway for those looking for something other than theme parks or Miami glitz.
The northern and southern tips of the island are park preserves where nature is always front and center. In fact, the Amelia Island Convention & Visitors Bureau has expanded their nature website through a partnership with the Audubon Society that includes descriptions of some 150 species of plants and animals, which you can download to your smartphone. But you won't find the stifling heat of South Florida. The highs in summer are just in the high 80s. In fact, summer is one of the most popular tourism seasons, though you'll find many deals this summer offering a third or fourth night free.
TIME TRAVEL back to pre-revolutionary days at Colonial Williamsburg in Virginia, where you can listen as Patrick Henry speaks to townspeople, hear the Fifes and Drums perform or attend a picnic complete with balladeers and storytellers.
Or celebrate 19th-Century style at Mystic Seaport in Connecticut, the nation's leading maritime museum, with the 27th Connecticut Volunteer Infantry re-enacting Civil War military exercises, a children's parade, lawn games (wheelbarrow race anyone?) and more.
TAKE IN A FESTIVAL like Boston's 6-day Harborfest, showcasing -- with some 200 daily events -- the colonial and maritime heritage of the cradle of the American Revolution.
And through July 3, Chicago has Taste of Chicago, a huge food festival complete with music and other kid-friendly activities in Grant Park on the lakefront.
Let's not forget Washington, DC with the Smithsonian Folklife Festival that literally transforms the National Mall into a global village. In the evening, you can head to the Mall for the concert and fireworks display -- or watch from a rooftop restaurant.
Got your flag ready? Let's party.
Visit TakingtheKids.com for more summer travel tips.