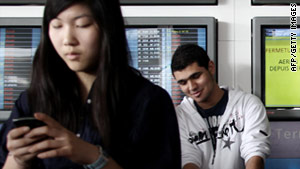 Connecting with your airline on Twitter could save you a long wait in line.
STORY HIGHLIGHTS
Delta has the most aggressive Twitter strategy among American carriers, Snyder says

Some airlines have employees dedicated to resolving problems using social media

It can't hurt to try; you might save yourself a long line or phone call

Editor's note: Brett Snyder writes a weekly CNN.com travel column. Snyder is the founder of air travel assistance site Cranky Concierge, and he writes the consumer air travel blog The Cranky Flier.
(CNN) -- When you're traveling and something goes wrong, all you want is for someone to help you get back on track. That used to mean lengthy lines in the airport or long hold times on the phone, but that's been changing, thanks to social media. Airlines are quickly learning that social media tools, particularly Twitter, can act as an excellent customer service channel.
Though Twitter and Facebook have been around for several years, many airlines, like other companies, were hesitant to really embrace them. These outlets have given people a great deal of power, and companies are generally afraid of things they can't control. Forward-thinking airlines like Southwest and JetBlue have long participated, but others have only recently realized that it's a smart move.
The power of social media is undeniable. Just ask Delta Air Lines. A video posted on YouTube of military personnel upset over fees for their fourth checked bags recently earned the carrier a tidal wave of negative attention. The airline already provided three checked bags for free to active-duty military, and the government reimbursed fees for any additional bags, but the reaction via social media channels was overwhelming anger. The uproar actually caused Delta to change its policy and increase its allowance, and other airlines followed suit.
In the past, many airlines have tried to ignore things that bubbled up via social media, and that hasn't worked well. Remember "United Breaks Guitars," where a frustrated United passenger took to the Web with a music video to get satisfaction? United finally responded once the story got legs, but now airlines are quicker to react.
But those instances are few and far between. More important than how an airline reacts to viral stories is how an airline responds to regular people with travel problems.

Twitter: Good and bad in 140 characters
Delta has become one of the most proactive airlines over the past year or so when it comes to using social media to serve regular folks. The airline has created a model for others to emulate.
Delta now has a social media lab where it runs its efforts. It has created the @DeltaAssist Twitter account specifically to deal with customer issues, though it monitors all mentions of the airline through all channels.
The fact that Delta now provides Internet access on all of its non-regional "mainline" aircraft means it can help people while they're in the air (if the passenger has paid the fee for wi-fi). I've personally contacted the Delta Assist team on a few issues, and the results have been excellent. Here's how it works:
From your Twitter account, send a note that mentions @DeltaAssist and then make sure that you're "following" the airline from your account. One of Delta's nine agents who work with Twitter will respond, and you can go back and forth via direct message.
This is best for problems that aren't complex. Remember, Twitter allows only 140 characters per message, so you have to get to the point quickly. (And that makes it very attractive to the airlines.) If it's a very involved issue, you'll still need to talk to a person. But even for issues like a missed flight or a delay, this can get quick results without having to wait in line.
Delta isn't the only airline that uses Twitter for good. Most airlines will now respond to at least some customer service tweets, and some -- like JetBlue -- have dedicated staff, though none has as much infrastructure behind social media as Delta. Here's a list of other major U.S. airlines and their Twitter accounts:
Alaska Airlines: @AlaskaAir
American Airlines: @AmericanAir
Frontier: @flyfrontier
JetBlue: @JetBlue
Southwest:@SouthwestAir
United: @United
US Airways: @USAirways
Virgin America: @VirginAmerica
Of those airlines mentioned, JetBlue, Southwest and Virgin America are probably the most responsive, while Frontier and US Airways fall to the back of the pack.
The best advice for dealing with airlines on Twitter is this: Give it a shot. If you don't get a response in a timely manner, get in line or on the phone for an agent. You've got nothing to lose by trying to contact airlines via social media, and the results might be surprisingly positive.
FOLLOW THIS TOPIC