Why you'll save more at the pump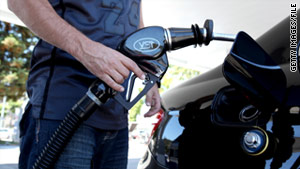 Gas prices have fallen 37 cents since May 6, according to the Lundberg Survey.
STORY HIGHLIGHTS
Gas prices have fallen 37 cents since May 6, the Lundberg Survey finds
Governments are releasing 60 million barrels of oil in the coming weeks
Gas prices are likely to fall further, publisher Trilby Lundberg says
(CNN) -- Gas prices fell 11 cents over the past two weeks, part of a downward slide likely to continue in the coming weeks, the publisher of a new survey said Sunday.
The Lundberg Survey found the average price of a gallon of self-serve regular gasoline is $3.63. That's down 37 cents since prices peaked on May 6.
Crude oil prices have dropped in recent weeks, and "weak performance" by the U.S. economy has lowered demand, said publisher Trilby Lundberg. "Many would-be drivers are out of work," she said. Their "movements are curtailed due to underemployment or unemployment, so demand is still down for the year."
The average gas price is still 86 cents higher than it was a year ago, Lundberg said.
The International Energy Agency announced last week that governments will sell 60 million barrels from reserves, half of it from the U.S. Strategic Petroleum Reserve, Lundberg noted. The news helped drop crude prices further, "which of course would imply further cuts at the pump."

Explain it to me: High gas prices
"Gasoline was probably already set to fall another 5 to 10 cents per gallon in the next two or three weeks," Lundberg said. But if sales of the 60 million barrels "are hot and heavy," crude oil prices could drop "another several dollars per barrel," and prices at the pump could plummet another 15 or 20 cents, she said.
The Lundberg Survey tabulates average gas prices in thousands of cities. In the latest survey, conducted Friday, the city with the lowest average price was Jackson, Mississippi, at $3.32 per gallon. The highest average was in Chicago, at $4.06.
Here are some prices in other cities:
-San Diego, California - $3.80
-Reno, Nevada - $3.71
-Tucson, Arizona - $3.42
-Houston, Texas - $3.47
-Denver, Colorado - $3.54
-Billings, Montana - $3.65
-Atlanta, Georgia - $3.60
-Baltimore, Maryland - $3.62
-Boston, Massachusetts - $3.76
FOLLOW THIS TOPIC