Delta takes issue with discrimination claims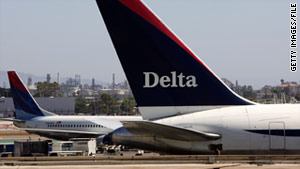 Delta Air Lines rejects discrimination claims circulated online.
STORY HIGHLIGHTS
Delta Air Lines denies discrimination claims tied to Saudi airline alliance

Delta does not operate in Saudi Arabia or codeshare with carriers that serve the country

Saudi government denies restrictive travel policies raised in the controversy
(CNN) -- Delta Air Lines came out strongly Friday against reports published online claiming it is discriminating against Jewish passengers through a multi-airline alliance that is set to include Saudi Arabian Airlines.
"Delta Air Lines does not discriminate nor do we condone discrimination against any of our customers in regards to age, race, nationality, religion or gender," the airline said in a statement.
The controversy emerged after a Thursday report was circulated widely across the Web claiming that U.S. Jews would not be able to fly on Delta flights to Saudi Arabia under the airline alliance because of restrictive travel policies imposed by the Saudi government, which adheres to strict Islamic law.
Delta is part of the multi-airline SkyTeam alliance, made up of 14 airlines including Air France and KLM. Saudi Arabian Airlines has been approved by the alliance's member airlines to join in 2012.
In its statement, Delta said it does not operate in Saudi Arabia nor does it codeshare (sell Delta seats on flights operated by other carriers) with airlines that serve that country. Delta said it has no plans to offer codeshare flights or other cross-airline benefits with Saudi Arabian Airlines.
Delta's agreement with the Saudi carrier allows passengers to book tickets on multiple airlines "similar to the standard interline agreements American Airlines, US Airways and Alaska Airlines have with Saudi Arabian Airlines," the statement said.
The Anti-Defamation League, an international organization that fights anti-Semitism, wrote a letter to Delta urging the airline to reject discriminatory policy.
"We understand that Delta, as any airline, is required to comply with the visa requirements of the destination country," wrote ADL National Director Abraham H. Foxman in a letter to Delta's CEO. "However, Saudi Arabia's past practice of banning travelers with an 'Israel' stamp in their passport from gaining entry into the country runs contrary to the spirit and intent of Delta's non-discrimination policy."
The Saudi government, one of the world's most restrictive, has addressed the reports, denying many of the claims about its travel policies.
"Rumors being circulated via the Internet regarding passenger flight restrictions on Saudi Arabian Airlines are completely false. The Government of Saudi Arabia does not deny visas to U.S. citizens based on their religion," the Saudi Arabian Embassy said in a statement.
The Saudi embassy told CNN it does not deny visas because of Israeli passport stamps, although it does not issue visas to Israeli passport holders because Saudi Arabia doesn't recognize Israel. The Saudi embassy said that Israel doesn't grant visas to Saudi Arabians.
Applicants for Saudi visas must specify Muslim or non-Muslim to determine who is granted access to the holy sites, the embassy said.
CNN's Lisa Sylvester, Vivian Kuo and Marnie Hunter contributed to this report.