STORY HIGHLIGHTS
Sedona offers inspiring views among the red rocks of the Arizona desert
Spiritual seekers support the city's cottage industry of psychics and guides
Sedona is famous for its vortexes -- funnels of the earth's healing energy
Chakra alignments, aura readings and vortex tours are entertaining, or enlightening
Sedona, Arizona (CNN) -- The three psychics -- call them "intuitives," please -- crowd around the "aura" photo. The Polaroid print supposedly captures the energy field surrounding a person, and this one is deep blue, with some purple and magenta. It looks like a 1960s album cover -- but to these spiritual guides, it's pure magic.
"You're psychic," Anita Dalton says. "Look at all that blue halo." Maria Carmella Montano agrees: "You're an old soul."
"You've had many past lives," Jocelyn Buckner chimes in.
Ah, but there's trouble on the horizon. A big, comma-shaped red cloud of energy looms off to one side, and it's messing with the mojo.
"It's like you're guarding yourself," Dalton says. "Yes, she is blocking something," Montano agrees.
And so it was that a self-described "fact-based person" embarked on a spiritual journey, Sedona style. Such an odyssey requires a suspension of disbelief and a willingness to go with the flow as the talk turns to UFOs on bumpy rides along rutted dirt roads in search of vortexes -- said to be gateways to the earth's energy -- and portals to other dimensions. (Note to the grammar police: People in Sedona do call them vortexes, not vortices.)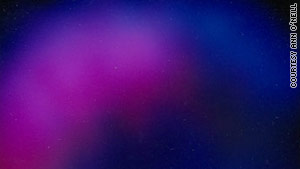 Before: An aura photo shows a blocked cloud of red energy off to one side.
Sedona and its nearly 12,000 earthbound souls can be found on 19 square miles of Martian-looking landscape about 100 miles north of Phoenix and 30 miles south of Flagstaff. Named in 1902 after the postmaster's wife and incorporated in 1988, Sedona sits 4,500 feet above sea level, neither desert nor mountain, which makes the climate sublime.
Escape to Arizona for a girls getaway
Eons ago, Sedona was under the sea. As the water receded, it left lines of color on the scenic, iron-rich spires and rock formations. "Our bathtub rings," the locals proudly call them.
The area was discovered centuries ago by Native Americans who made homes in the red cliffs -- the Paleo Indians, followed by the Anasazi, then the Hohokam and the Sinagua Tribe, who are believed to be ancestors of the Hopi.
The early European settlers came in the 1850s, followed 100 years later by Hollywood filmmakers, who in turn were followed by hippies, New Agers, artists and retirees.
At night, Sedona is so dark, the stars seem to leap out of the sky. The city limits outdoor lighting -- so much so that the McDonald's at the center of town doesn't have the usual glowing golden arches; they are painted the Southwest's signature color, turquoise.
Tourism fuels the economy, and Sedona caters to eclectic tastes. The ubiquitous Pink Jeeps take sightseers deep into the canyons to ogle jaw-dropping scenery and Native American ruins. There are spas and golf courses, restaurants and art galleries. You can rent a horse or an all-terrain vehicle. A Buddhist stupa rises from the desert just a mile or so from a cowboy church.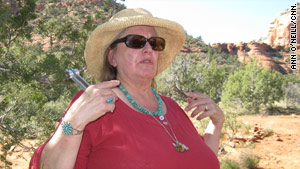 Jocelyn Buckner offers vortex tours and readings. She carries a tuning fork to align chakras.
Many who flock to Sedona are on spiritual quests. They come for New Age woo-woo, set against a backdrop of azure skies, blood-red rocks and crisp air scented by juniper and ponderosa pine. The Sedona mantra is influenced by Native American mysticism, and when Mother Earth is this wonderful, one yearns to connect with her.
"Sedona has a way of resonating with people who belong here" says Buckner, who makes a living giving readings and vortex tours. "People who come here never want to leave. We call that red rock fever."
A native of Southern California, Buckner first came to Sedona for the Harmonic Convergence in 1987. It was billed as the group chant that would change the vibe of the universe, but mostly it was "one big party," she says.
She came back for good 22 years ago and raised two daughters with her husband, who was her college sweetheart, in a rambling ranch house on the banks of Oak Creek. The Buckner family homestead is directly in line with the powerful Cathedral Rock Vortex.
Like many locals, Buckner speaks of Sedona as if the city were a living, breathing, sentient being.
Many of the hotels and resorts lie in the Vortex of Confusion, Buckner says, which is fine for sightseers but can hinder the alignment and cleansing of the seven chakras. These chakras -- base, sacral, solar plexus, heart, throat, third eye and crown -- are said to be the source of personal security, sexuality, sense of self, emotions, communications, intuition and spirituality.
Plumbing one's inner depths does not require sleeping in a yurt. Enchantment Resort, with its Mii amo Spa and Yavapai Restaurant, provides luxury without sacrificing the urge to commune with nature. Nestled deep in Boynton Canyon in what Buckner advises is the Vortex of Past Lives, the resort overlooks a rock formation called Kachina Woman.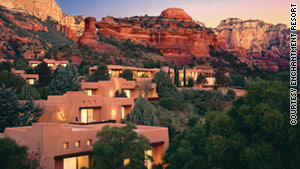 Enchantment Resort is nestled among stunning red rocks, where cell phone service is a challenge.
Alas, Enchantment lies in the Vortex of No Cell Phone Service. At certain times of the day, a signal sneaks in and guests, cell phones to their ears, crowd around what staffers call the "magic pole" behind the resort's main building. They include the driver of a canary yellow Lamborghini with California plates.
Large flat-screen televisions hang in the guest rooms, and there's a high-speed Internet connection, so civilization is not completely lost. But the Egyptian cotton sheets, cloud-like duvet, fluffy robes and towels, and fragrant homemade olive oil soaps make the wired life almost irrelevant.
Unplugging is just what the good psychic ordered. Each day is greeted with a sunrise meditation and yoga session at Mii amo Spa, and along the pathways, it's not unusual to come across a fawn grazing on the alligator juniper. Bambi calmly waits for the human intruder to pass.
Buckner recommends a Tuesday night drum circle with the locals at the Oak Creek Brewing Company. Simon's, a food stand operating out of a window at the brewery's entrance, serves up one of the best hot dogs on the planet. The Colombian is a divine concoction of weenie, pineapple, mozzarella, sauce and crushed potato chips on a bun. It's a natural companion for the homemade brewski.
The drum circle is not a mellow, tom-tom-tapping affair. The energy is visceral and fierce, and the air is permeated with patchouli oil and body odor. The men seem older -- a feather protrudes from a gray ponytail -- and the women younger, shaking and shimmying to the beat in flowing skirts topped by jingling jewelry belts. The drummers and dancers get so into it, they yip like coyotes.
"I finally got a freakin' job, but my car doesn't work and I haven't paid the rent," a braless earth mama-type announces at the bar during a break. For years, she has been living on the brink, Buckner explains.
"But Sedona always finds a way to provide."
Sedona also finds a way to feed more than the soul. There are restaurants galore. The psychics hang out at Picazzo's Organic Italian Kitchen, where they prefer the vegan and gluten-free pizzas. The Coffee Pot, a Sedona institution since the 1950s, offers 101 variations on the basic omelet and serves breakfast until mid-afternoon. The gift shop is a kitsch lover's mecca.
There's also fine dining, most notably at Enchantment's Yavapai Restaurant, where executive chef Ted Cizma serves up an amazing lobster taco and decadent desserts in a wood and glass restaurant with bliss-inducing views of Boynton Canyon.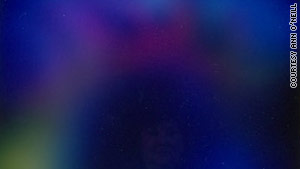 After: Healing green light replaces the red cloud in an aura photo taken after two healing sessions.
It seems pointless to stay at a destination spa and not sample the services, so the plan for the next day includes a chakra opening at Mii amo.
The business of chakra cleansing should not to be mistaken for pampering. It involves burning sage, being scrubbed with brushes from head to toe and thinking about the unpleasant things that need purging as stones are placed on each chakra.
There is also chanting and pleas for empowerment to the earth, ocean, sun, nature, sky and moon, wind and, last but not least, the divine.
Each chakra gets a chant, like this one for the third eye, for which amethyst is placed on the forehead:
"I call on the power of the wind ... I let go of any unnecessary tensions ... I open to fullness of my life's experience ... I relax in the present moment ... "
That menacing red cloud in the aura photo is in the cross hairs now.
The next day, a second treatment -- this time at the purple-painted Center for the New Age -- blows it away. After an hour of massage, scented oils, reflexology and hot towels wrapped around the feet, a new aura photo is snapped, revealing healing greens and blues in the red cloud's place. Three spirit guides are liberated, and white spiritual light literally enters the picture, mixing with magenta to form a crown. At least that's the interpretation given to this fact-based person.
At last, it is time to tour the vortexes and get a final reading, Buckner says. We begin at Airport Mesa and its panoramic view of all Sedona has to offer -- Cathedral Rock, Coffeepot Rock, Thunder Mountain, Chimney Rock and more. The scene here is touristy, though, and we're in search of the real magic of Sedona.
Buckner turns her aged white Bronco toward the foot of Lizard Head Rock and the Amitabha Stupa, a monument to Buddha's enlightenment that is believed to be the source of blessings. Wishes are said to be amplified 108 times here, but Buckner accidentally waters a wilting plant with a liquid offering meant for Buddha. A Tibetan nun scolds that that the move was "inauspicious." Buckner apologizes profusely to Buddha and moves on to a nearby medicine wheel, where she uses a tuning fork to align the chakras.
Cathedral Rock is next, and Buckner uses mental dousing rods to locate a powerful vortex on the banks of Oak Creek. It is early spring, and the water runs high and fast. Her creekside reading reveals that a star is on the rise and the love of a lifetime is ever so close. Disease, depression and recession just aren't in the picture. Greatness is nigh. You just have to believe.
Our day ends at Bradshaw Ranch, home to what mystics believe are portals to other dimensions. Many UFOs have been spotted here, Buckner says, pointing to the horizon: "There's a lot of woo-woo energy out here."
As the sun goes down, this traveler is tired, dusty, sunburned, thirsty -- but happy. The UFOs can wait for another day.
FOLLOW THIS TOPIC