Gas prices headed downward, survey finds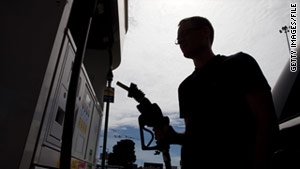 Gas prices are dropping and likely to continue to fall, according to a survey released Sunday.
STORY HIGHLIGHTS
The average U.S. per-gallon price is $3.74
The price has dropped nearly 26 cents in the past five weeks
Chicago has the nation's highest price, at $4.29
(CNN) -- The average per-gallon gas price in the United States has dropped nearly 17 cents in the past three weeks, and likely will continue to drop further, according to a survey published Sunday.
The Lundberg Survey found the average price of a gallon of self-serve regular gasoline as of Friday was $3.74.
Prices so far this year peaked on May 6, when the price hit $4 per gallon nationwide -- just 11 cents shy of the all-time record set in July 2008. On May 20, the last survey conducted, the price was $3.90. That means there has been a drop of nearly 26 cents per gallon over the past five weeks.
"There's a very good chance that pump prices will continue down, because there is an oversupply of gasoline at a time when our demand is weakening from unemployment conditions," as well as reports of a possible output hike from Saudi Arabia, said publisher Trilby Lundberg.
The crude oil price is below $100 per barrel, she said. The closing price on June 10 was $99.29.
But Lundberg said she believes that even without increased output from Saudi Arabia, "we will still see lower prices at the pump, because supply is high and demand is weak. ... There's a very good chance it will continue falling."
However, the current price is about a dollar higher than a year ago, as are diesel prices, she said.
The drop would likely have been greater, she said, but for increasing ethanol prices.
Within the selection of cities updated, the highest average price was found in Chicago, at $4.29 a gallon. The lowest was Jackson, Mississippi, at $3.41.
Here are the average prices in some other cities:
- Charleston, South Carolina $3.49
- Albuquerque, New Mexico $3.55
- Denver $3.63
- Atlanta $3.66
- Philadelphia $3.77
- Los Angeles $3.93
- Boston $3.84
FOLLOW THIS TOPIC