STORY HIGHLIGHTS
Some retreats can provide a medical overhaul while enjoying vacation time
The Sha wellness clinic is the world's only macrobiotic spa and a celebrity favorite
Other resorts cater to skin health and provide anti-aging remedies
(CNNGo.com) -- Forget plain old spas, wellness is the buzzword now. Retreats that give you a medical overhaul while you sun, swim and scoff healthy gourmet fare.
Here are 10 of the best:
1. Terme de Saturnia Spa & Golf Resort
This Tuscan idyll probably has the world's most exotic facial treatments, using diamonds, gold and Antarctic ice as ingredients.
Also on offer are Craniosacral Attuning, Micronized Nasal Showers and Physiokinesiotherapy. It all sounds very technical, but the effects are pure bliss.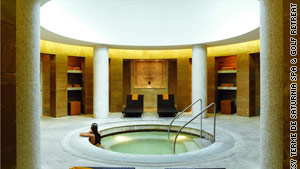 Experience exotic facial treatments at Terme de Saturnia Spa in Italy.
The spa sits beside an ancient thermal spring said to have healing powers, and is also awash in waterfalls, pools and impressive Roman baths. There are two restaurants, an 18-hole golf course and 53 treatment rooms.
Rate: Room and breakfast from €210 (US$302) per person per night, treatments extra.
58014 Saturnia (Grosetto), Italy; +39 0564 600888/9; http://www.termedisaturnia.it/it/
2. Sha Wellness Clinic
The world's only macrobiotic spa is a favorite of Kylie Minogue and Naomi Campbell.
Supremely serene, this white temple of minimalism brings an oriental style and philosophy to Spain's Costa Blanca. You'll be offered reiki -- a treatment which aims to balance your energies without the therapist actually laying hands on you -- and a session in a private "floatarium" -- a dimly lit room taken up by a shallow pool of salty water.
Despite the gourmet chef fresh from elBulli, expect a lot of brown rice and absolutely no meat, eggs or dairy.
Rate: Room and all meals from €200 (US$288) per person per night, treatments extra. Double that for a two-day package including access to classes and three treatments.
Verderol 5, El Albir, 03581 Alicante, Spain; +34 966 811 199; http://www.shawellnessclinic.com/
CNNGo: 28 of the most relaxing spas in Asia
3. Clinique La Prairie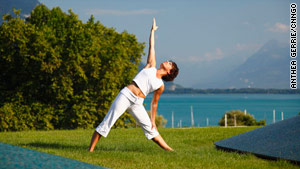 Clinique La Prairie in Switzerland provides relaxing yoga-based massages.
This secretive clinic on the shores of Lake Geneva came to fame for its sheep embryo injections, said to have rejuvenated scores of the rich and famous.
Happily, the painful shots have been replaced by an extract which is now drunk after a comprehensive medical -- this must be the only spa in the world with 60 in-house specialists and its own MRI scanner.
Also expect out-there treatments like Lomi-Lomi, a Polynesian healing massage, and Sat Asanas, in which you're massaged while performing different yoga positions.
When not receiving treatments, you can walk round the lake or enjoy busy Montreux. The spa cuisine is superb.
Rate: Weekly programmes only, inclusive of six nights and full board, full medical check-up and a tailored program from CHF 10,370 (US$12,177) per person.
Chemin de la Prairie 2, 1815 Clarens, Switzerland; +41 21 989 3311; http://www.laprairie.ch/en
4. Como Shambhala Begawan Giri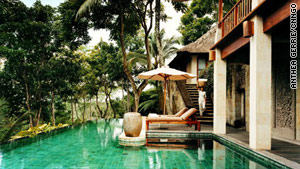 Como Shambhala Begawan Giri has plenty of options, from mountain biking to meditation.
The flagship wellness retreat in central Bali has become a blueprint for a whole raft of Como properties. But it would be hard to beat this original, set among the rice paddies outside Ubud, where an osteopath, chiropractor, physio, psychologist, nutritionist and Ayurvedic doctor are all on hand to sort out your chakras.
Energy healers, life coaches and "influential thinkers" visit some weekends, but at all times there's yoga, pilates, meditation, aquatherapy, mountain biking and hiking, plus sublime spa treatments and outstanding cuisine.
Rate: Three-night minimum package including room and all meals, wellness consultation, massage, classes and return airport transfers from US$1,400 per person.
Banjar Begawan, Desa Melinggih Kelod, Payangan, Gianyar, Ubud 80571, Indonesia; +62 361 978 888; http://www.cse.como.bz/
CNNGo: 15 unusual places to spend a night
5. La Quinta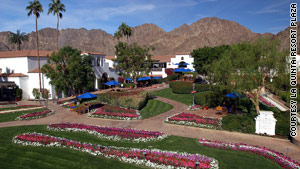 La Quinta specializes in rarefied spa treatments.
The desert resort of Palm Springs may not seem compatible with bone density scanning equipment used by NASA, but beautiful, colonial-style La Quinta has that gear and much more.
Rarefied spa treatments include a rose-quartz facial, a massage with "sacred stones," a body polish with the seeds of wine grapes from the Napa Valley and an oxygen "power lift" for the complexion. There's even a kids' spa -- where young athletes can get a sports massage -- golf and tennis, and 41 swimming pools.
Rate: Room rates start at US$109, room only. WellMax check-up including skin laser treatments as well as full diagnostic package US$3,500.
49-499 Eisenhower Drive, La Quinta, CA 92253, USA; +1 760 777 8772; http://www.wellmax.com/ / http://www.laquintaresort.com/
6. Carmel Forest Spa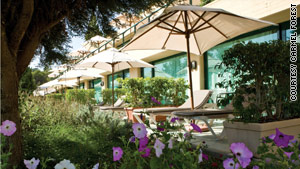 Some of the world's best massage therapists are on staff at Carmel Forest Spa.
This eyrie high above the Med near Haifa was once a center of emotional healing for Holocaust survivors.
Now it tends to the aches, pains and stresses of their descendants. The world's best massage therapists deliver divine salt, vanilla and lavender peels or shiatsu. Reiki, physiotherapy and reflexology are all on tap.
A wine bar dispensing fine Israeli vintages distinguishes this place from most wellness centres, but in spite of the alcohol and abundant cuisine, the food is very healthy. And you can walk it off in the forest, on the tennis courts or with a swim in expansive indoor and outdoor pools.
Rate: Double rooms from US$435 including room, full board and activities, treatments extra.
PO Box 90 000, Haifa 31 900, Israel; +972 (04) 830 7888; http://www.isrotel.com/
CNNGo: Seoul's coolest luxury hotels
7. Carnac Thalasso @ Spa Resort Hotel
Thalassotherapy -- the harnessing of seawater and seaweed to improve health -- was invented more than a century ago in the westernmost French province of Brittany.
One of the best thalasso spas is at Carnac, with a huge indoor-outdoor seawater pool and new age waterbeds which beam out color therapy as they gently rock you.
Other treatments include wraps in warm seaweed, floats in a salty hydrotherapy bath, and massages delivered while tepid seawater drips on your back. Don't miss the passive but deeply therapeutic experience of staring out at sea and sky from a sybaritic relaxation room.
Rate: Double rooms from €85 (US$122) including access to therapeutic baths. Treatments extra.
6 Allee Fleur de Sel, 56343 Carnac, France; +33 (0)2 9752 5354; http://www.thalasso-carnac.com/
8. Blue Lagoon
This full-service indoor-outdoor spa is built atop the largest of the country's many natural hot springs, and lies conveniently halfway between the airport and the capital, Reykjavik.
Research shows bathing in geothermal seawater offers significant benefits to the skin as well as the psyche. You can slather on the rich mix of minerals, silica and algae provided in buckets along the sides of the huge outdoor pool, or get a professional massage, but there is also a clinic for psoriasis sufferers.
The Blue Lagoon has its own hotel, restaurant, superb shop and great line of skin care products; it's worth paying extra for access to the VIP club as a day visitor.
Rate: Double rooms including breakfast and Lagoon access from €140 (US$200); entrance-only €28.
240 Grindavík, Iceland; +354 420 8800; http://www.bluelagoon.com/
CNNGo: 5 spectacular volcanoes
9. Chiva Som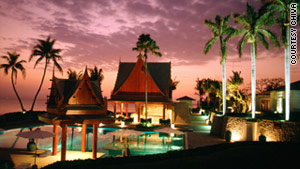 Chiva Som claims to offer a "total lifestyle transformation."
This exotic Thai resort offers a "total lifestyle transformation." After 16 years, Asia's first dedicated wellness resort is still winning multiple awards for its blend of Western diagnostics and Eastern philosophies served up in ritzy, but vernacular, style.
A new anti-aging doctor can ferret out triggers for disease and prescribe bio-identical hormones or herbal medicine. Also new are a biofeedback test to monitor response to stress, facial acupressure and a kinesthetic assessment to identify spine alignment imbalances.
But don't expect a guitar lesson if you sign up for a Heavy Metal Profile; it's a test to seek out lead, mercury and other toxins in your system.
Rate: Rooms from US$305 per night.
Hua Hin, Thailand; +66(0)32 536 536; http://www.chivasom.com/
10. Lifehouse
After half a century of health farms, Britain finally has its first true wellness retreat in Lifehouse. This contemporary, light-flooded spa set in gorgeous gardens once beloved of Queen Mary, offers traditional treatments like facials, pedicures and both western and eastern style massage.
You can get cranio-sacral therapy, acupuncture, personalized flower remedies, reiki, kinesiology, spiritual and psychic healing and even a virtual gastric band.
Food is healthy, innovative and excellent, there are yoga and exercises classes, and as with every great wellness spa, just hanging out in beautiful, tranquil surroundings is a major part of the experience.
Rate: Two-night package including all meals, transfers from railway station, access to classes and two treatments from £290 (US$474) per person.
Lifehouse, Frinton Road, Thorpe-le-Soken, Essex CO16 0JD; + 44 1255 863468;http://www.lifehouse.co.uk/
CNNGo: The Seychelles resort William and Kate chose is ...
© 2011 Cable News Network Turner Broadcasting System, Inc. All Rights Reserved
FOLLOW THIS TOPIC