Coming soon: Groupon for travel deals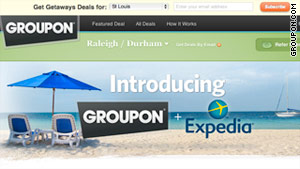 Want to get in on the deals? Sign up at Expedia or at groupon.com/getaways.
STORY HIGHLIGHTS
Groupon partnership with Expedia to expand offerings to travel deals

The new getaway deals are expected to launch in late June

Typical deals offer discounts of about 50 percent off retail rates

(CNN) -- Add weekend getaways to the restaurant deals, yoga classes, cooking lessons and laser treatments Groupon dangles in front of bargain-hungry consumers. The daily deal company is set to roll out travel discounts through a partnership with Expedia.
Groupon Getaways with Expedia is expected to launch in late June, offering deals lopping about 50 percent off retail prices listed on other travel sites, according to an announcement Wednesday.
The venture will start in the United States and Canada, with discount offers on travel products including flights, hotels, package deals, car rentals and cruises. The site is expected to expand to other countries, the announcement said.
"Groupon Getaways with Expedia is a fitting complement to our local deals, helping people get out of the house and explore the world," Groupon CEO Andrew Mason said in a statement.
Each offer will be available for purchase for a limited time, following the Groupon sales model. Vouchers can be traded for travel within the redemption period.
The companies tout the new site as a win-win for consumers and for travel companies that will be able to market to more than 50 million members of the two sites in the U.S. and Canada.
Consumers can sign up on Expedia or groupon.com/getaways now to begin receiving e-mails.
And if you are inclined to buy travel Groupons on a whim, don't forget to use them. A squandered sushi dinner is one thing. A forgotten trip to Vegas? Ouch.