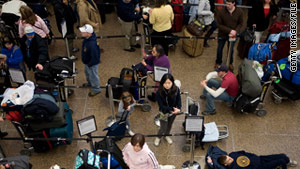 Get creative about your flights and research your options when weather interrupts travel plans.
STORY HIGHLIGHTS
When your flight is canceled, book a hotel room quickly before they're all full
Get in line for a gate agent while you're on the phone trying for reservations help
Get creative and explore options on your own; you know your travel needs best
Editor's note: Brett Snyder writes a weekly CNN.com travel column. He is the founder of air travel assistance site Cranky Concierge, and he writes the consumer air travel blog The Cranky Flier.
(CNN) -- Last week's volcanic eruption in Iceland combined with the storms that pummeled Dallas/Fort Worth airport provided a good reminder that Mother Nature can wreak havoc on flight schedules. With Memorial Day marking the official beginning of the summer travel season, it's a good for a refresher on what to do when weather ruins your travel plans.
When the weather goes downhill, it's a lot different from when an airplane has a mechanical problem. In the latter case, very few people are affected in the scheme of things. But when thunderstorms roll through, everyone feels the pain.
When a storm capable of producing golf ball-size hail and tornadoes passed over Dallas/Fort Worth International Airport last week, flight schedules were thrown into disarray. The first priority in that case was to get everyone to safety. Some people were evacuated into the hotels on the airport property and away from windows. That should be your first priority as well.
Once you're safe, it's time to start thinking about your options.
Storms like these make it hard for airlines to know when flights will go, if at all. American, for example, had to inspect the airplanes on the ground for hail damage and then had to pull some out of service. Often, instead of trying to string passengers along in situations like this, the airlines will cancel operations for the remainder of the day and try to reset the following day. That's when you should spring into action.
The first thing you'll want to do is find yourself a room for the night. When the weather goes south, the airlines won't pay for your hotel. But with so many people stranded, hotel rooms are likely to become scarce. So get on the phone and grab a room if you're not ready to camp out at the airport. Then you can start thinking about flights.
The elusive hunt for legroom on planes
The airlines will rebook you automatically on the next flight that has room, but that doesn't mean it's the fastest option. If you're going from Dallas to San Francisco, for example, American would probably just put you on the next nonstop flight with seats. There might, however, be connecting options. You can get as creative as you dare.
All of the usual suspects will probably be full. In other words, finding a flight with room to another hub like Chicago or Los Angeles isn't likely to bear fruit. But if your pain tolerance is high, you could try something like Dallas to Oklahoma City to Los Angeles to San Francisco. If you're just going on vacation, it might not be worth it. But if you need to get to your kid's graduation, then that option doesn't sound so bad if it will get you there.
Don't be afraid to tackle things yourself.
You can search for options on the airline sites, you can find a travel agent or you can use some tools such as the KVS Tool or ExpertFlyer that can help you look at airline availability on your own.
As technology improves, you'll be able to start doing some of these things on smartphone apps. We're not quite there yet when it comes to finding a full menu of new flight options during irregular operations, but the day is coming.
Of course, airline agents can help you as well, but they might not think of all the options out there. The more creative you get, the better chance you have of getting out sooner.
While you're waiting in line for the agent, you can also call the reservations line for help. Those phones will be jammed and you might have to wait, but reservations agents can see the same availability as gate agents and will probably be able to spend a little more time working with you.
Frequent flier's tips for dealing with jet lag
Once you have your flight, it's time to head to the hotel. Unfortunately, it's unlikely that you'll be able to get your checked bag back for the night. It would be an absolute mess and take hours for the airlines to get everyone's bags sent to the right place, so bring a change of clothes and basic toiletries in your carry-on.
Of course, make sure you have any needed medication with you as well. You should never check important medication. Even liquid medications can be brought through security.
The important thing to remember here is that when the weather gets ugly, it isn't the airline's fault and it's certainly not the fault of the agent with whom you're dealing. You both have the same goal: To get you out of the airport and on your way home.
Be patient, get creative and with some luck, you'll be heading home sooner rather than later.