And America's best beach is ...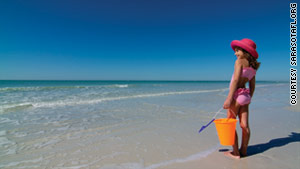 The sand at Siesta Beach is fine and powdery white.
STORY HIGHLIGHTS
Annual list names America's top 10 beaches

Siesta Beach in Sarasota, Florida, receives top honors this year

Beaches in San Diego and Hawaii round out top three
(CNN) -- Heading to the coast this weekend? Take note of the nation's best sandy stretch: Sarasota, Florida's Siesta Beach tops the 2011 list of the top 10 beaches in the country.
The annual list, in its 21st year, is produced by Stephen P. Leatherman, director of Florida International University's Laboratory for Coastal Research.
"Siesta Beach in Sarasota boasts that it has the finest and whitest sand in the world, and I cannot argue with this claim; the powdery sand is nearly pure quartz crystal," Leatherman said in a statement.
Coronado Beach in San Diego and Hawaii's Kahanamoku Beach on Oahu round out the top three.
Coronado is described in the rankings as "the toast of Southern California" with the historic Hotel del Coronado adding its celebrity appeal and Old World elegance.
Travel Snapshots: Tropical drinks
Kahanamoko Beach offers great swimming for families and children, according to the best beaches list. The beach is named for a gold medal Olympic swimmer, Duke Paoa Kahanamoku, who is credited with bringing surfing to the outside world, according to the best beaches list.
Travel Snapshots: Island escapes
The top 10 beaches for 2011:
1. Siesta Beach in Sarasota
2. Coronado Beach in San Diego
3. Kahanamoku Beach in Honolulu's Waikiki district
4. Main Beach in East Hampton, New York
5. Cape Hatteras in the Outer Banks of North Carolina
6. St. George Island State Park, Florida Panhandle
7. Beachwalker Park on Kiawah Island, South Carolina
8. Coast Guard Beach in Cape Cod, Massachusetts
9. Waimanalo Bay Beach Park on Oahu, Hawaii
10. Cape Florida State Park in Key Biscayne, Florida
FOLLOW THIS TOPIC