STORY HIGHLIGHTS
In France, between five and nine weeks of vacation per year is the norm
The author had a difficult time transitioning to a U.S. company, where vacations are limited
If you can take vacation, de Belloy recommends enjoying it at a relaxed pace
Editor's note: Alexis de Belloy is a Frenchman who lives and works in Austin, Texas. As HomeAway's vice president in North America, his job is to encourage Americans to take a good vacation.
(CNN) -- When I was a little boy, my family would take a couple of months -- yes, months -- off each summer to go on a long, leisurely vacation. All my friends' families did, everyone did.
I was brought up in France, where five, seven, even nine weeks of vacation per year is seen not only as a sacred right, but the choicest, most coveted part of even the most fulfilling career.
When it comes to summer breaks, France is divided into "Julyists" -- those who start their month-long vacations in July -- and "Augustists," those who start their holiday in August. It doesn't really matter which one you choose; little work gets done in either month anyway.
When I was growing up, my family spent the better part of July and August at my grandparents' country house in Normandy. I remember lazy, unscheduled days with cousins, lingering over breakfast, biking to a local farm for fresh milk, noodling around, finding mischief where we could.
Once, well before any of us kids had a license, we spent an entire afternoon piloting someone's old car in reverse, trying to slalom between the trees in a field.
When I joined the workforce after college, taking my first job in a factory in the north of France, the company simply shut down in July and everyone took paid vacation.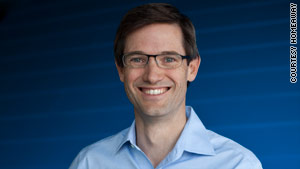 Alexis de Belloy had a hard time adjusting to American policies and attitudes about vacation.
Generous management? No. Ever since the 35-hour work week was instituted in France, the government mandates five weeks of vacation for everyone, and those who work more than 35 hours -- like most white-collar workers -- earn an additional two weeks.
That's seven weeks, and I know plenty of people who, for working tough jobs or irregular hours, acquire up to 11 weeks of annual time off.
That's why I wasn't prepared for my first job with an American company in London: two weeks of vacation and colleagues who felt compelled to brag about their untaken vacations, testimony to their commitment to the company and career prospects.
I did manage a week-long ski trip. My friends and I rented a small chalet in the Alps. Each day we skied from the time the lifts opened to the time they closed. Then came the call from my boss.
I spent the rest of that evening crouching over my laptop in the cold outside a darkened bakery, waiting for my budget numbers and musing over the fact that this little village seemed to get on just fine with only one Wi-Fi hotspot -- the bakery. My friends were shocked.
For the French, vacation is away time, and the company leaves you to enjoy the break, no matter how important your job.
Fast forward many years and now I'm married to an American, a father of four and working in the U.S. I'm lucky enough to work in the vacation rental business, so I get more time off than most of my American friends. At HomeAway, each employee, no matter their tenure, receives a month off per year.
However, I still haven't gotten used to the kind of "American" getaway my wife considers vacation: three states in three days, kids signed up for swimming lessons at 8 a.m., hurry up and relax because the time is almost up -- and is that my BlackBerry or yours?
My idea of a vacation -- indeed, most French people's idea -- is one that lets me taste a life of luxury. Not the worldly luxury of high-priced hotel suites and Fifth Avenue shopping, but the luxury of living the way I would if I didn't have to work for a living: the freedom to relax and enjoy time with friends and family, pursue a hobby, read a good novel.
More than 80% of French people don't even leave France for their vacation. They rent, own or are invited to a vacation home somewhere within the country, and they spend several weeks of unstructured time, enjoying walks on the beach or in the mountains, great food and interesting conversation. It's like being a child again, where the vacation seems like it'll last forever.
According to a Gallup poll, 54% of Americans return from their holiday feeling tired, with 19% reporting they returned feeling either "very tired" or "exhausted."
Now that I'm in the business of vacation rentals, part of my job is to help Americans have relaxing, enjoyable vacations, even though they may only get a week off here or there.
Here are a few tips:
• Give yourself the time to enjoy your chosen destination, rather than frantically chasing as many interesting places as possible in the inevitably short time that you have.
• When traveling with family or friends, make sure that the accommodation you select allows you to spend quality time together. If you're renting, choose a house with an ample kitchen, outdoor space for the kids and a pleasant living area for after-dinner conversations.
• Limit or just skip the scheduled activities, the rushing here and there. My American sister-in-law remembers a "relaxing" cruise where she hauled herself blearily out of bed at 6 a.m. -- two days in a row -- to be herded though customs with 500 shipmates so she could make an 8 a.m. snorkeling excursion on a Caribbean island.
That said, if you happen to see me in July on a trans-Atlantic flight back to France trying to control four howling children on their way to a 10-day jet-lagged vacation in Normandy, please don't judge me.
I will be reminiscing about a time, not so long ago, when children were meant to be seen, not heard, and vacations were meant to be taken, not saved.
FOLLOW THIS TOPIC